Off Campus: Winning Progressives' Most Important Generation
Session Type(s): Panel
Starts: Friday, Aug. 19 4:30 PM (Eastern)
Ends: Friday, Aug. 19 5:30 PM (Eastern)
Young people between the ages of 18 and 35 are powerful political players—a fact that they demonstrated forcefully in the 2018 midterm elections and the 2020 presidential election. In 2020, despite the obstacles posed by the COVID-19 pandemic and decades of systemic voter suppression, young people turned out to vote in historic numbers, ultimately shaping the outcome of the election and delivering a strong message about their progressive vision for the country. This panel will discuss the importance of engaging communities of color and young people who do not attend college to galvanize the youth vote.
Moderator
Amit Mistry is a proud Marylander with more than a decade of political experience working on both issue and electoral campaigns. He is currently the Chief Impact Officer for the Alliance for Youth Action, America's premier youth organizing network which grows progressive people power across America by empowering local young people's organizations to strengthen our democracy, fix our economy, and correct injustices through on-the-ground organizing.
Before joining the Alliance for Youth Action, Amit was the Later States Data Lead on the Elizabeth Warren for President campaign, overseeing the data needs for staff in more than 20 states and coordinating with national staff across multiple departments. Amit has also spent time at the Center for Popular Democracy, NextGen America, and the League of Conservation Voters, supporting a mix of local, state, and national programs with a focus on experiment-based tactics.
Panelists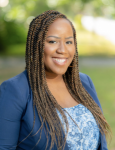 Delilah is a nationally recognized organizer and strategist with extensive experience in electoral and advocacy campaigns across the country. She leads the Texas Future Project as the Executive Director advising and aligning donors and investments to support progressive civic engagement organizations in Texas. She is also the co-founder of VoteSimple, a digital voter registration nonprofit organization in Texas that's registered thousands of registering young, BIPOC and queer voters to vote. For the historic November 2020 presidential election, she served as the National Field Director for Win Justice and a Senior Advisor to the New Georgia Project which successfully helped flip control of the White House and the U.S. Senate. Notably, she was the Texas State Director for Beto for America and was the Field Director for Stacey Abrams' 2018 gubernatorial campaign. A native of Houston, TX and the daughter of a Nigerian immigrant, her work is dedicated to ensuring our democracy truly reflects progressive values and the striking diversity of our country.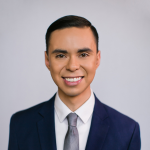 Antonio Arellano is a modern civil rights leader, currently serving as the Vice President of Communications at NextGen America, the country's largest youth voting mobilization organization. Antonio oversees the implementation of a national strategy to increase the progressive power of young Americans in politics, advancing the organization's priority issues including economic equity, climate justice, and voting rights.
For over a decade, Antonio has been an unyielding guardian and promoter of equality and dignity for all. He led Jolt, the largest Latino civic engagement organization in Texas, ahead of the historic 2020 presidential election and helped contribute to the largest Latino census count in modern Texas history. Antonio also served as the Press Strategist for the Texas affiliate of the American Civil Liberties Union where he influenced how key issues including LGBTQIA+ equality, smart justice, and reproductive freedom were framed in print, radio, television, and online media.
Named one of the most influential Latinos in the United States by Hispanicize, Antonio's social media accounts combined reach over 100 thousand millennial voters. He embodies the power of Latino leadership and the resilience of the immigrant community.
Antonio has been featured in MSNBC, TIME Magazine, Newsweek, The New York Times, USA Today, Univision, and Telemundo, among others.
Learn more about Antonio at www.antonioarellano.com
Stasha Rhodes the Managing Director of Campaigns at The Hub Project and is Partner, Of Counsel, at Keefe Singiser Partners.
Stasha is a proven leader with over 15 years of experience as a movement strategist, building grassroots power and shaping the national conversation around critical policy priorities. As a principal at Keefe Singiser Partners, she helps mission-driven organizations develop and execute impactful issue advocacy campaigns.
Prior to joining KSP, Stasha was the Managing Director of Democracy Campaigns at The Hub Project, driving a team of changemakers who brought filibuster reform and D.C. statehood to the forefront of the movement through coalitions like 51 for 51, Fix Our Senate, Democracy For All 2021, and Just Democracy. Stasha also worked with Martin Luther King III and Arndrea Waters King to create a national campaign that made MLK Day 2022 a historic flashpoint in the urgent mission to pass voting rights legislation.
Previously, Stasha served as the Director of Engagement at Giffords and Director of Advocacy for guns and crime policy at the Center for American Progress. There, Stasha facilitated a nationwide coalition of over 200 gun violence prevention organizations.
In her home state of Louisiana, Stasha served as a State Director of the American Heart Association, and was the founder and principal of The Red Team, LLC, an advocacy firm specializing in issue-campaign management.
Stasha is a respected voice on structural democracy reform and national politics, with commentary cited in the New York Times, Vox, Elle, the Washington Post, and more. Stasha is a graduate of Southern University and Southern University Law Center, and she currently lives in Washington, D.C. with her wife and three kids.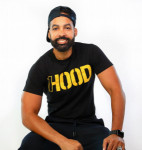 Jasiri X is the first independent hip-hop artist to be awarded an Honorary Doctorate, which he received from Chicago Theological Seminary in 2016. Still, he remains rooted in the Pittsburgh based organization he founded, 1Hood Media, which teaches youth of color how to analyze and create media for themselves. His critically acclaimed album Black Liberation Theology (2015) has been recognized as a soundtrack for today's civil rights movement. He has performed his music from the Smithsonian to the Apollo Theater and has discussed his views on hip-hop, race, and politics at leading institutions across the nation, including Harvard University, the University of Chicago, NYU, Yale, and Stanford, among others. In 2017 he received the Nathan Cummings Foundation Fellowship to start the 1Hood Artivist Academy. Jasiri is also a recipient of the USA Cummings Fellowship in Music, the Robert Rauschenberg Foundation Artist as Activist Fellowship and the President's Volunteer Service Award.
Other sessions: Why We're Winning: How Black-Led Progressive Organizations are Changing the Face of Western PA Politics, Public Safety vs. Policing: They are Not One and the Same!, All Eyes on PA: How Progressives are Building Power to Win in the Keystone State