More Than a Bomb: The Past and Present Impacts of Nuclear Weapons
Session Type(s): Panel
Starts: Friday, Aug. 19 1:30 PM (Eastern)
Ends: Friday, Aug. 19 2:30 PM (Eastern)
The crisis in Ukraine has thrust the threat of nuclear war into the spotlight, but the reality is we have been at risk since the creation of nuclear weapons. From the materials used to create them to the lands where they were tested, nuclear weapons have left a legacy of harm. While this existential threat can feel impossible to grapple with, activists are taking action on an issue that has been kept under wraps for decades. Join experts and impacted community members to discuss the intersections of nuclear war, climate change, and more.
Moderator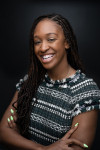 Mari Faines serves as the Partner for Mobilization at Global Zero (GZ) where she oversees movement building strategies for the organization. In this role, she helps GZ navigate the intersection of nuclear disarmament and social justice through tactics such as grassroots organizing, policy engagement, and coalition building. Faines joins Global Zero having served a Director of Communications and Outreach at Physicians for Social Responsibility (PSR); as well as a five-year tenure at TransPerfect, a global solutions firm where she held Project Manager & Team Lead positions in New York and London respectively.
As a podcast host and diversity & equity activist, Faines remains active with a variety of advocacy organizations with her work as a Steering Committee Member for Women of Color Advancing Peace, Security, and Conflict Transformation's (WCAPS) global DEI initiative 'Organisations in Solidarity'. In addition, she is also a member of Foreign Policy 4 America (FP4A) NextGen Initiative, serving as the co-lead for the DEI working group. Other roles also include a Center for Strategic and International Studies (CSIS) Spring 2022 AILA International Fellow.
Faines formerly served on the Board of WCAPS-UK; and was founder and host of the WCAPS-UK Podcast 'Got Melanin'. She has worked with Democrats Abroad, African Development Forum, the London Conversations, and as a UNITE 2030 Youth Delegate Lead for the 2021 program with a primary focus on UN Sustainable Development Goals.
She holds a Master of Science (MSc) in the Politics of Conflict, Rights, and Justice from SOAS University of London, and Bachelor of Arts (BA) from Colgate University. Her research specialized in nuclear intersectionality, conflict resolution, transitional justice, and racial disparities in the United States, sub-Saharan Africa, and the African diaspora.
Faines has a passionate belief that only through unselfish commitment, and authentic innovative collaboration can we, as a society, ever hope to achieve equity, justice, and peace, for all populations.
Panelists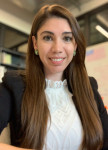 Iman Awad is the Deputy Director at Emgage, an organization focused on uplifting Muslim Americans. She works on the national policy portfolio that includes protecting global human rights as well as improving domestic policies for Muslim Americans. Prior to her current role, she was appointed by Governor Martin O'Malley to lead the nation's first state-level Commissions on Middle Eastern and Continental African Affairs. She was responsible for developing policies to address the needs and concerns of these communities. Her work led to the first MOU with Baghdad, Iraq through Sister Cities International, and she was selected for the team responsible for planning the Governor's international mission to the Middle East. Iman is a current student at the Johns Hopkins School of Advanced International Studies and received her B.S. in Political Science and Economics from Loyola University, Maryland. Notably, she was named 2020 Middle Eastern and North African American National Security & Foreign Policy Next Generation Leader by New America and is a Political Partner at the Truman National Security Project.
Other sessions: Putting Human Rights at the Center of U.S. Foreign Policy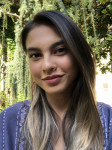 Samantha is an activist currently based on Shoshone-Bannock land. As an alumna of the University of Hawaii Manoa political science program, her studies largely focused on anti-imperialism and decolonization, which informs her approach to social justice work. In her nonproliferation advocacy work with Global Zero, she aims to inspire new activists within the nuclear sponge states and expand the movement seeking justice for victims of nuclear testing. Outside of work, she is a writer, a beginner seamstress, and a plant enthusiast.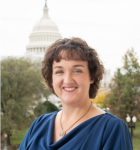 Congresswoman Katie Porter represents the 45th Congressional District in Orange County, California.
In Washington, Congresswoman Porter has remained committed to putting Orange County families first. As a member of the House Oversight and Reform Committee and Vice Chair of the Subcommittee on Government Operations, she's asked tough questions of bank CEOs and administration officials to hold them accountable to the American people. She's also a proud member of the House Natural Resources Committee, where she works tirelessly to protect our beaches and public lands, elevate science-based solutions to the climate crisis, and keep Orange County families safe from wildfires. She chairs the Oversight and Investigations Subcommittee, where she leads efforts to hold polluters accountable.
Eager to invite families into the conversations happening in the halls of Congress, Rep. Porter has developed a reputation for her use of visual aids during Congressional hearings. She wielded a whiteboard while grilling the CEO of JP Morgan Chase, Jamie Dimon, over how an entry-level employee at his bank couldn't make ends meet. She also used her signature whiteboard to break down potential cost barriers to COVID-19 tests, which helped her secure a commitment from the Trump Administration to make testing free for every American.