Join us for an all-LGBTQIA+ panel to discuss the impact of the Dobbs decision on the LGBTQIA+ community through an intersectional lens.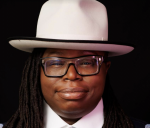 La'Tasha D. Mayes, MSPPM, is a nationally recognized leader in the field of reproductive justice, human rights and leadership development for Black women and girls. She is a native of West Philadelphia and believes in the indefatigable spirit of women.
La'Tasha is the founder and former president and CEO of New Voices for Reproductive Justice, an organization in Pennsylvania and Ohio dedicated to the health and well-being of Black women, femmes, girls and gender-expansive folx. New Voices advocates at the local, state and national level for reproductive justice. In January 2015, New Voices co-launched the national policy initiative, In Our Own Voice: National Black Women's Reproductive Justice Agenda, as a founding partner. She has also served on the board of directors of the Groundswell Fund — the largest funder of reproductive justice and women of color. She completed a second term on the Pennsylvania Governor's Advisory Commission on African American Affairs, ending in 2021. She is a past National Board Chair of SisterSong Women of Color Reproductive Justice Collective — the largest human rights advocacy group for Indigenous women and women of color based in Atlanta.
La'Tasha is a graduate of the University of Pittsburgh with a bachelor of science in business administration and earned a master of science in public policy and management from the Heinz School of Carnegie Mellon University. La'Tasha also completed the Rockwood Leadership Institute Reproductive Health, Rights and Justice Fellowship in 2016, the Executive Program for Social Impact Strategy at the University of Pennsylvania in 2019 and the Higher Heights Senior Leadership Fellowship in 2021.
La'Tasha has served the Pittsburgh community as an inaugural Allegheny County Human Relations Commission Vice-Chair, Social Action Chair of Delta Sigma Theta Sorority, Inc. – Pittsburgh Alumnae Chapter and President of the Urban League Young Professionals of Greater Pittsburgh. In the Pennsylvania Primary Election 2015, La'Tasha ran for Pittsburgh City Council – District 7 and earned 35% of the vote against an incumbent in her first major campaign for elected public office.
La'Tasha currently is the Democratic nominee for Pennsylvania State Representative in House District 24. La'Tasha is running to disrupt politics as usual with a campaign platform of Healthcare + Reproductive Justice, Community Safety, Environmental Justice, Equitable Education and Voting Rights. La'Tasha won the Primary Election on May 17, 2022 with 46% of the vote against two candidates and she is running in the General Election on November 8, 2022 with endorsements from Pittsburgh Federation of Teachers, Planned Parenthood Pennsylvania PAC, Represent PA, Sunrise Movement Pittsburgh / Pennsylvania, #VOTEPROCHOICE, Run for Something, Progressive Voter Project, LPAC, Steel City Stonewall Democrats and LGBTQ Victory Fund.
She has received numerous honors for her work, including the City & State Pennsylvania 2022 Power of Diversity: Black 100, 2022 She Can Win Building Bridges Award, 2021 KYW Newsradio GameChanger Award, 2018 ATHENA Award nomination, 2017 NAACP East Boroughs Phenomenal Woman Social Justice Award and 2016 Coro Center for Civic Leadership Martin Luther King, Jr. Distinguished Alumni Award.
La'Tasha has been published in the following books: "Reproductive Justice: An Introduction" by Loretta J. Ross and Rickie Solinger (University of California Press), "Radical Reproductive Anthology" by Loretta J. Ross (Feminist Press), Lynn Roberts et al and in the In Our Own Voice Policy Report, "Our Bodies, Our Lives, Our Voices: The State of Black Women and Reproductive Justice" with her article "Building the Next Generation of Black Reproductive Justice Leaders." La'Tasha has been featured by many regional and national media outlets, including ColorLines, Essence Magazine, NBCNews.com, Rewire, Slate Magazine, The Nation and Time.com.
Other sessions: Digital Innovations and the Future of Small-Dollar Fundraising and Organizing