Can Democrats Speak to Black-specific Racial Issues and Win?
Session Type(s): Panel
Starts: Thursday, Aug. 18 4:00 PM (Eastern)
Ends: Thursday, Aug. 18 5:00 PM (Eastern)
This panel will directly test the assumption that leading with and speaking explicitly and directly to black-only issues is a political liability for the Democratic establishment. Join us as we present research and recommendations for engaging Black voters authentically on economic, education, rights, and justice issues during the midterms.
Moderator
Kwesi Chappin is a community organizer based in Cheverly, Maryland. On a mission to create tangible change for Black folks; he teaches others how to turn their apathy into anger and hold elected officials accountable. He believes that when Black folks are treated like soccer moms by the political establishment, they'll get the resources and attention needed to win.
For Kwesi, politics is the allocation of resources that affects everyday life. His family experienced this first hand when his older autistic brother couldn't get the resources he needed at school in Trinidad & Tobago and immigrated to the U.S. when Kwesi was a child. Later, in high school, Kwesi learned about how government works and the importance of storytelling as an educator with the United States Holocaust Memorial Museum in D.C. After that, he went on to study political science at the University of Maryland and officially became a history nerd driven by the need to always understand "why."
In 2007, Kwesi's life changed when he joined the Obama campaign. As an organizer, he launched Cleveland's first successful presidential volunteer program, where he mobilized the city's residents to knock on their neighbor's doors instead of bringing in paid outsiders. From there, he served as Training Director at the New Organizing Institute. Next, he created the Black Roots New Media Bootcamp, the first-ever digital strategy training program for people of color, before returning to the Obama campaign in 2012. After that, he was in charge of statewide volunteer coordination and managing paid canvassers in Ohio, ensuring the state stayed blue.
Since then, he has done a variety of dope things. He shut down coal plants with the Sierra Club. Convened churches in Arkansas around the issue of healthcare as part of SEIU – Change That Works. Helped elect the Prime Minister of Trinidad & Tobago. Formalized the employee union at the Center for Popular Democracy. (He also learned how to DJ and hosts an epic backyard cookout every year.)
Kwesi recently worked at the online racial justice organization, Color Of Change. As Senior Political Director, he was instrumental in moving the membership base beyond clicking petitions into deeper online and offline engagement and kicking terrible district attorneys out of office who didn't fight for Black folks.
In all of his endeavors, Kwesi takes a holistic and humans-first approach to organizing: meeting people and communities where they're at and listening to their needs in an authentic, respectful way. One of his former colleagues said, "it's like magic" when Kwesi is in the room. But it's easy to be in the community if you listen. Then, blending his knowledge with the community's, he equips people with the skills and tools to organize on their own.
As a consultant, Kwesi works with social justice organizations doing dope things. He helps them create tangible, impactful experiences for their membership base via training on public narrative and strategy. His favorite clients are still learning and growing and aren't afraid to take risks.
Panelists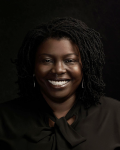 Sian Lewis is a data scientist and is the Head of Research at A—B. She specializes in narratives for mitigating racism and algorithmic bias. For her contributions to data science, research, and social good, Sian is a 2021 Society of Women Engineers Spark Awardee, a 2021 Black Engineer of the Year Modern Day Technology Leader awardee, a 2020 Women of Color in Stem All Star awardee, and a 2019 DCFemTech awardee.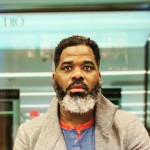 W. Mondale grew up—one of thirteen children—in an environment riddled with all the norms of poverty, for a Southern Black family. That vantage point gave him a front row seat to all that plagues the oppressed and underserved in our nation, and it would eventually be at the root of all of his work. At an early age, W. Mondale began seeking answers to accepted social constructs, he quickly saw the need to challenge those flawed ideas and he took the path of solution architect. After graduating from high school he joined the United States Marine Corps. W. Mondale Robinson realized that joining the Corps was admirable, but quickly learned that it was not a mechanism for social change. With this in mind, he entered into the world of politics.
W. Mondale Robinson was the founder of The C. Institute which was a NGO concerned with equitable governance and inter-social treatment for persons of African descent, in countries where they are a minority population. W. Mondale is also the Founding Principal of Black Male Voters Project, the first and only national organization with a sole purpose of increasing Black men's participation in electoral politics. He is also the creator of the BMEP Additory Approach© , an award winning, cultural competent political program, that's responsible for increasing Black men's participation in more than 21 states. He is also the CEO of WMR Consulting Firm. W. Mondale has worked on more than 160 campaigns (local, statewide, federal, and international).
W. Mondale Robinson is also the mayor of his hometown, Enfield NC where he defeated an incumbent by more than 53% points, to become the youngest mayor in the town's history. He founded and led #ALLACTION which was an online organizing group that specialized in tech-community organizing, training for successful civil disobedience actions, and strategic advocacy planning.
He has appeared on national television news stations such as: Democracy Now, Al-Jazeera, NPR, ABC, MSNBC, and CNN, RT Germany, TYT, Australian Public Broadcasting and in most national written press. He has political and cultural columns on The Village Celebration a publication that focus on Black lives. Mondale is also one half of the team for Clickbaity: Political ThirstTrap, a raw political podcast.
Other sessions: All Eyes on PA: How Progressives are Building Power to Win in the Keystone State