#UnionsforAll: Respect Us, Protect Us, Pay Us
Session Type(s): Panel
Starts: Friday, Oct. 8 1:00 PM (Eastern)
Ends: Friday, Oct. 8 2:00 PM (Eastern)
Workers of all races, led by Black and Brown women, are coming together across industry and geography to write new rules for workers. We're taking on the outdated, racist labor laws that excluded women and workers of color with a bold demand for Unions for All. We'll talk about challenging structural racism and sexism in labor law. And we'll learn from workers and organizers advancing breakthrough racial and economic justice strategies to win for workers so everyone can join together in unions, no matter where they work.
Moderator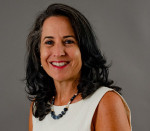 Nicole G. Berner is General Counsel of the Service Employees International Union (SEIU), an organization of 2-million members united by the belief in the dignity and worth of workers and the services they provide and dedicated to improving the lives of workers and their families and creating a more just and humane society. Nicole provides strategic legal advice to the union on a broad range of matters, including SEIU's innovative organizing campaigns. Nicole is also a partner at James & Hoffman, a Washington, D.C., based law firm. During her more than 20-year career, Nicole's law practice has focused on advocating on behalf of working people and highlighting the connections between economic justice, racial justice, gender justice, and LGBTQ rights.
Nicole has represented SEIU in a broad range of cases in state and federal courts, including recent challenges to an executive order issued by President Trump that would strip federal employees' union rights, a challenge to power grab legislation signed into law by ousted Wisconsin Governor Scott Walker, cases to protect the Affordable Care Act, challenges to the Defense of Marriage Act and marriage discrimination, and a number of voting rights cases around the country. Prior to coming to SEIU, Nicole served as a staff attorney at Planned Parenthood Federation of America, where she litigated reproductive rights cases to protect and expand access to reproductive healthcare. Before that, she was a litigation associate at the Washington, DC office of Jenner & Block.
Nicole is a fellow of the College of Labor and Employment Lawyers. She also currently serves on the board of directors of Jobs with Justice and the National Partnership for Women and Families and is a member of the Legal Advisory Council of Law Forward in Wisconsin. Between June 2017 and June 2020, she served on the Board of Directors of the American Constitution Society.
Nicole graduated Order of the Coif from Berkeley Law, where she concurrently completed a Master's Degree in Public Policy (MPP) from Berkeley's Goldman School of Public Policy. Nicole served as a judicial law clerk to the Honorable Betty Binns Fletcher on the U.S. Court of Appeals for the Ninth Circuit and the Honorable Thelton E. Henderson on the U.S. District Court for the Northern District of California. She received her B.A. in Women's Studies from U.C. Berkeley.
Panelists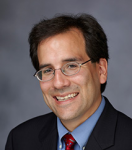 Ruben J. Garcia is Professor of Law and Co-Director of the Workplace Law Program at the University of Nevada, Las Vegas, William S. Boyd School of Law. From 2017 to 2019 he served as Associate Dean for Faculty Development and Research at the UNLV Boyd School of Law. Prior to joining the UNLV faculty in 2011, he was Professor of Law and Director of the Labor and Employment Law Program at California Western School of Law in San Diego, where he taught for eight years. He also has served as a Visiting Professor at the University of California, Davis School of Law, the University of Wisconsin Law School, and at the University of California, San Diego. Before beginning his teaching career in 2000, Garcia worked at Rothner, Segall and Greenstone as an attorney for public and private sector labor unions and employees in the Los Angeles area. He is a graduate of Stanford University, received his Juris Doctor from UCLA School of Law, and has a Master of Laws (LL.M.) degree from the University of Wisconsin Law School, where he was a William H. Hastie Fellow. His scholarship has appeared in a number of leading law reviews, including the Hastings Law Journal, the Loyola Law Review, the University of Chicago Legal Forum and the Florida State University Law Review, and peer-reviewed publications such as the Employee Rights and Employment Policy Journal and the Annual Reviews of Law and Social Science. His book Marginal Workers: How Legal Fault Lines Divide Workers and Leave Them Without Protection was published by New York University Press in 2012. He has lectured at Stanford, Harvard, the University of Chicago, Georgetown University, the Brookings Institution, the International Labour Organization Training Center and many other law schools and colleges. From January 2014 to January 2016, he served as the Co-President of the Society of American Law Teachers (SALT), and has served on the Board of Directors of the ACLU of Nevada. He is a member of the Board of Directors of the American Constitution Society (ACS), a national nonprofit organization, and an advisor to the Boyd Law Student and Las Vegas Lawyer Chapters of the ACS. In 2019, he was elected as a Fellow of the College of Labor and Employment Lawyers based on more than twenty years as a labor lawyer and academic in the field of Labor and Employment Law. He is currently writing a book on race and the minimum wage for the University of California Press. A frequent contributor to media stories on issues of constitutional law, labor law and employment law, he has been interviewed by National Public Radio, the New York Times, and Marketplace, among other news outlets. Professor Garcia is on leave during Fall 2021 writing a book on race and the minimum wage for UC Press.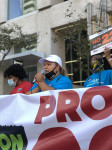 Luz Laguna is an Uber Eats driver and a leader in Mobile Workers Alliance, an advocacy organization for app-based drivers. Luz has driven for Uber and Lyft for over three years, and like so many in the gig economy, has been forced to continue working throughout the pandemic to make ends meet. She has organized and spoken out against Prop 22 — the $225 million ballot initiative bankrolled by Uber and Lyft to exclude gig drivers from basic worker protections and benefits – as well as continuing to expose gig companies' unfair and illegal treatment of their drivers. In addition to being a leader in the fight for gig workers' rights, Luz is the proud mother of four. She lives in Los Angeles, California.
Bartolome Perez of Los Angeles has worked in the fast-food industry and for McDonald's for over 30 years. He has been a leader in the Fight for $15 and a Union for nearly eight years and was a leader in the movement to win $15 an hour in California. Bart has spoken out about numerous issues in fast-food including wage theft, discrimination and the need for union rights for fast-food workers. In late 2020, he tested positive for COVID-19 and believes he contracted the virus at work. He has filed multiple health complaints with LA County and Cal/OSHA detailing violations of basic COVID safety guidelines.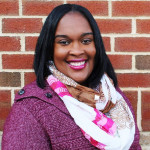 LaNoral is a Deputy Director for the Healthcare division of Service Employees International Union (SEIU). She has been with SEIU for 18 years, joining the union as an Organizer in Training (OIT) in 2003. She has worked on campaigns in all three Divisions, in all corners of the country, and in several roles from OIT to Campaign Director. LaNoral served as the Organizing Director of SEIU Virginia 512 from March 2013- June 2017, helping them become a political powerhouse and a key component of the shift of Virginia to a firmly blue state in the last ten years. She serves as a board member for The Center for Equity, and is a member of Bunton CME Church where she is the Chair of the Christian Education Department. LaNoral's belief in unions and the power of people comes from her dad who served as the Vice President of his local union. Her passion for racial, social, and economic justice is fueled by her desire to create an environment for her children to thrive safely and equitably. She received her BA from Albany State University, a HBCU in Southwest Georgia. She is married and a mother of 3 children. She is currently leading SEIU's Long Term Care campaign to win life changing investments in care jobs, and the ability for all home care providers to join a union.