Expanding the Supreme Court to Protect Abortion Rights
Session Type(s): Featured Panel
Starts: Friday, Oct. 8 11:30 AM (Eastern)
Ends: Friday, Oct. 8 12:30 PM (Eastern)
The Supreme Court has failed to block a flagrantly unconstitutional Texas law that bans abortion after six weeks of pregnancy, effectively overturning Roe v. Wade in the state. Later this fall, the Court will consider a case from Mississippi that could further erode the constitutional right to abortion, or end it nationwide altogether. The burdens of these decisions will fall most heavily on people of color, low income people, and other vulnerable populations. The Court's recent actions make clear that this Supreme Court poses an imminent threat to our right to make decisions about our bodies, our lives, and our futures. In order to protect our fundamental rights, and to make progress toward a more equitable future, we must first address the conservative supermajority on the Supreme Court, which was illegitimately installed by Republican politicians through a win-at-all costs campaign. Congresswoman Ayanna Pressley (MA-07) will kick off this program. Then, reproductive rights and justice experts will be joined by court reform advocates to discuss the need to add seats to the Supreme Court, with the goal of safeguarding the right to an abortion, restoring the Court's legitimacy, and bringing balance back to the institution.
This session is sponsored by Demand Justice.
Moderator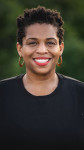 Tamara Brummer is an organizer and strategist with years of experience building meaningful and impactful relationships rooted in a shared vision of real economic justice. At Demand Justice she is the Senior Advisor and Director of National Outreach and Engagement focused on broadening outreach and deepening relationships across organizations and movements. She is currently based in Washington, DC.
Panelists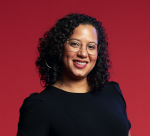 Renee Bracey Sherman is a reproductive justice activist, abortion storyteller, strategist, and writer. She is the founder and executive director of We Testify, an organization dedicated to the leadership and representation of people who have abortions and share their stories at the intersection of race, class, and gender identity. She is also executive producer of Ours to Tell, an award-winning documentary elevating the voices of people who've had abortions.
Other sessions: The Criminalization of Abortion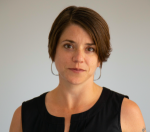 Katie O'Connor is deputy chief counsel at Demand Justice, an organization fighting for progressive change in our courts. Prior to joining Demand Justice, Katie advanced progressive legal causes at the American Constitution Society, Advancement Project, and the ACLU Voting Rights Project. She received her J.D. from Georgia State University College of Law and her undergraduate degree from the Georgia Institute of Technology. She's a Tennessee native, D.C. resident, scary movie enthusiast, and unabashed cat lady.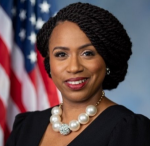 Ayanna Pressley is an advocate, a policy-maker, an activist, and a survivor. On November 6, 2018, Ayanna was elected to represent Massachusetts' 7th Congressional District in the U.S. House of Representatives, making her the first woman of color to be elected to Congress from the Commonwealth of Massachusetts. Ayanna believes that the people closest to the pain should be closest to the power and that a diversity of voices in the political process is essential to making policies that benefit more Americans.
Born in Cincinnati and raised in Chicago, Ayanna is the only child of a single mother and a father who was in and out of the criminal justice system. Ayanna's mother, Sandra Pressley, was a tenants' rights organizer who instilled in her the value of civic engagement. Thanks in large part to her mother's dedication to activism, Ayanna has always been acutely aware of the role that government can play in lifting up families and communities.
Ayanna moved to Boston, MA in 1992 to attend Boston University. Before she was able to complete her degree, she withdrew from the University to help support her mother. Working as an aide to Congressman Joseph P. Kennedy II and later Senator John Kerry, Ayanna's professional life mirrored her commitment to service and lifting the voices of those in her community.
In 2009, she launched a historic at-large campaign for Boston City Council and won, becoming the first woman of color elected to the Council in its 100-year history. On the Council, Congresswoman Pressley worked in partnership with residents, advocates, and other elected officials to combat the inequities and disparities facing the community.
In 2016, Congresswoman Pressley was named one of The New York Times 14 Young Democrats to Watch. In 2014, the Greater Boston Chamber of Commerce named her as one of their Ten Outstanding Young Leaders, and the Victim Rights Law Center presented her with their Leadership Award. In 2015, she earned the EMILY's List Rising Star Award and was named one of Boston Magazine's 50 Most Powerful People. She is also an Aspen-Rodel Fellow in Public Leadership, Class of 2012.
Ayanna lives in the Hyde Park neighborhood of Boston with her husband Conan Harris, ten-year-old stepdaughter Cora, and cat Sojourner Truth.