Session Type(s): Professional Development Training
Starts: Thursday, Oct. 21 6:00 PM (Eastern)
Ends: Thursday, Oct. 21 7:30 PM (Eastern)
In this workshop, we'll talk about the roles of managers and leaders and develop skills for coaching, feedback and communication to improve your management relationships, and tools to challenge white normative culture in your leadership and team.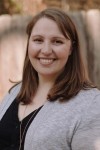 Lola Elfman Greene is a founder and CEO of DevelopWell, as well as a Leadership Coach and Master Trainer with a passion for creative learning and social change.
DevelopWell is a womxn-owned and operated coaching and consulting practice that develops leaders and teams in values-driven organizations with a holistic and innovative approach. Our team brings years of experience from the technology, organizing, and People & Culture fields to ensure our clients are employing the best structures and practices that will allow their teams to achieve their full potential.
Lola's work focuses on developing strong leaders and teams through coaching, team building, and talent development. She has set the standard for engaging and productive team retreats and meaningful management practices with groups like ActBlue, Sunrise Movement, UltraViolet and others.
Lola believes that everyone is a leader, not just line managers or the C-Suite, and that everyone has the potential to positively impact their organization, their families, and the world.
Other sessions: Manager Confessions: This Meeting Could Have been an Email