Remote Activism: Harnessing Progressive Power from Afar
How can we harness the energy in extreme blue states like California and New York to impact elections in red or purple states? Many politically passionate Americans live in states without truly competitive races for federal offices. The anti-democratic structural distortions of the electoral college and the Senate lead many residents of the bluest (and reddest) states to doubt the significance of their own ballots. But their energy and enthusiasm can be channeled to impact elections in the most competitive states. In this panel, we'll discuss innovative tactics for harnessing volunteer energy from afar.
Moderator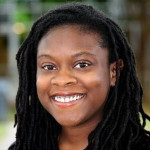 Ashlei Blue is a proud grassroots organizer. As a native of Fayetteville, NC and a graduate of UNC Charlotte, Ashlei began as a campus volunteer with Obama for America in 2008 and continued working in electoral politics throughout her home state. She is passionate about defeating voter suppression, gerrymandering and election fraud across the country.
Ashlei started political consulting in 2012, assisting candidates and community issue campaigns. She most recently served as Field & Political Director for Kathy Manning's campaign for Congress in North Carolina's 13th Congressional district before joining Swing Left where she currently serves as Political Director. She has worked as a trainer for Arena, New Leaders Council and other grassroots training programs across the country.
In her spare time, she is an avid songwriter, amateur storm chaser (#KashDoppler) and snack connoisseur.