Drawing a Decade: Why State Legislatures are Our Last Chance to Stop GOP Gerrymandering
State legislators elected this year will draw the next set of Congressional and state legislative maps in most states. These maps will have a massive impact on partisan power in Congress and in states through 2030. This is our last chance to avoid another un-democratic decade of Republican gerrymandering, which silences voters, subverts elections and corrupts our government. This all-women panel of state legislative politics and campaign experts will discuss why state legislatures are the gateway to ending gerrymandering, analyze the state of play in 2020 state legislative races, and provide ideas for how we can work together to win big in 2020.
Moderator
Carolyn Fiddler is Communications Director for Daily Kos and has worked in communications and state politics for the better part of a decade, most recently as the national communications director at the Democratic Legislative Campaign Committee (DLCC). She previously worked as political communications director for The Atlas Project and as a strategic communications specialist with the American Federation of Teachers after her initial stint at DLCC as communications director and a couple of years with Media Matters for America, where she was director of external affairs. Fiddler graduated Phi Beta Kappa from the University of Arkansas with a B.A. in international relations and political science, and she received her J.D. from the College of William & Mary. Prior to law school, Fiddler worked for the Democratic Party of Virginia. She's from a small town in Virginia you've never heard of, and her comic book collection is probably bigger than yours.
Other sessions: Elections Q&A with Daily Kos Elections!
Panelists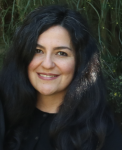 Gaby is Co-Founder & Political Director at Sister District Project (SDP), and Director of Research at Sister District Action Network (SDAN). Sister District's mission is to build Democratic majorities in state legislatures, raise awareness about the importance of state legislatures, and facilitate progressive policy transfer between legislators and states.