Whose Courts? How Progressives Can Transform the Courts (and Win in 2020)
Session Type(s): Panel
Starts: Friday, Jul. 12 1:30 PM (Eastern)
Ends: Friday, Jul. 12 2:30 PM (Eastern)
Room: 118C
Kavanaugh's confirmation fight and the response of progressive voters in 2018 shattered the notion that the courts are a losing issue for our side. With the Senate and White House up for grabs, 2020 is a pivotal year for the future of our judiciary. It's no overstatement that our rights and our very democracy are at stake as the courts weigh in on the Muslim Ban, abortion access, the Russia investigation, environmental protections, civil rights, LGBTQ equality and more. Progressive candidates must share their vision for the courts—and progressive voters must raise the issue at every turn. Join us to discuss strategies to leverage the momentum of recent confirmation fights to make the courts a central and winning issue in 2020.
Moderator
Keith Thirion is an experienced campaigner, advocate, and organizer. As the Director of Outreach at Alliance for Justice, he directs organizational strategies and leads coalitions in campaigns to increase visibility of the courts and judicial nominations, focusing on the importance of the courts in protecting civil rights and constitutional protections. He previously served as Director of Advocacy & Programs and then Acting Director of Equality Maryland, where he played a lead role in passing the state transgender anti-discrimination law and directed the campaign to deny opponents signatures for a repeal referendum. He also directed EQMD's public education and advocacy programs. He also worked for the Chesapeake Climate Action Network directing Virginia field campaigns to advance clean energy policies and counter the power of the commonwealth's biggest polluters. Keith began organizing on multiple ballot initiative campaigns, including Proposition 8 in Los Angeles, and as an Organizing Fellow with the National LGBTQ Task Force.
Panelists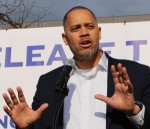 Diallo Brooks, People For's senior director of outreach and partner engagement, brings 20 years of experience as a leader in the fight for social justice and civil rights while working with national and state leaders to advance progressive policies that support and enhance everyone's ability to live the American dream. In his current position, Brooks serves as a national spokesperson on issues including civil rights, voting rights, and civic engagement. He works to engage progressive partners and allies around People For's social justice mission and works with the People For Foundation programs to ensure civic engagement leads to a broader and more inclusive democracy. Brooks also coordinates People For's fight against the corporate-right agenda of the American Legislative Exchange Council (ALEC), including work to protect public education, protect voting right and expose right-wing attempts to criminalize communities of color.
Brooks previously served as People For's field director, where he was responsible for activating People For's networks around campaigns and strategic initiatives to advance progressive goals. Prior to joining People For, Brooks was the director of legislator relations for the Center for Policy Alternatives where he worked to train and provide policy support to progressive state legislators around the country. Brooks is a member of the board of directors for the Network For Public Education Action and the National Coalition on Black Civic Participation. Brooks has provided trainings for numerous nonprofits, local, state and federal elected officials and other institutions to uplift progressive values through leadership and policy enhancement.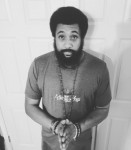 Reggie has held many senior strategic and logistical roles across a variety of fields, ranging from global marketing, digital and community organizing, government relations, international education to Presidential campaigning. He currently serves as a senior political strategist for MoveOn, managing their relationships, impact and communications with Capitol Hill. In addition to his political work, Reggie is also a 500 hour certified yoga teacher and authored a thesis entitled, "Yoga and Spiritual Activism: Serving Humanity from a Sense of Devotion and Love." He received a B.A. in philosophy from Yale University and an MBA in international strategy from the Vlerick Business School in Belgium.
Reggie has taught Members of Congress, Congressional Staff, leading progressive organizations and individuals, sharing techniques for growing peace and ease as a foundation, not an afterthought. His teaching practice is designed for all levels and lifestyles, the only thing required is an open mind. The focus of his teaching practice is to bring more peace and balance to activists AND to guide the wellness community toward being more engaged, concerned citizens. Achieving this balance is how we catalyze transformative change.
Other sessions: Thursday Morning Yoga, Thursday Mindfulness Moment, Saturday Morning Yoga, Friday Morning Yoga, Friday Mindfulness Moment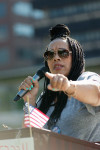 A West Chester, PA native and Temple University grad, Kadida Kenner was most recently a writer, producer, and director for college sports television programming in Charlotte, NC. Energized by the 2016 elections, she decided to take a hiatus from TV production, and return to campaign work as a field and digital organizer for the NC Democratic Party's coordinated campaign. Following the elections, Kadida moved back to Pennsylvania and currently lives in Harrisburg while working as the director of campaigns for the Pennsylvania Budget and Policy Center (PBPC). The We The People – PA (WTP-PA) campaign and the Why Courts Matter – PA (WCM-PA) campaign are both led by PBPC. We The People is a nonpartisan campaign that aims to make state government work for all of us. The agenda was created from the ground up by people who came together in meetings across Pennsylvania. WCM is a non-partisan coalition of organizations and advocates working to ensure our federal courts are filled with diverse, independent, well-qualified, mainstream jurists who are dedicated to fairness and impartiality, and keeping with the core constitutional values of liberty, equality and justice for all.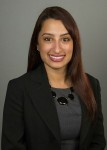 Anisha Singh is the Director of Judicial Nominations at Planned Parenthood Federation of America where she develops the organization's democracy and courts strategy through coordinated campaigns to protect reproductive rights and health in our courts.
Prior to joining Planned Parenthood, Anisha was the senior organizing director for Generation Progress, the youth-engagement arm of the Center for American Progress. In this capacity, Anisha developed national organizing strategies and training programs to bring the experiences of 18- to 35-year-olds to on-the-ground actions in target states. Prior to joining Generation Progress, Anisha served as the campaign manager for Legal Progress at American Progress. There, she shaped the conversation around the nation's judicial process by managing unprecedented grassroots organization efforts across the country to educate Americans on the need to fill judicial vacancies with diverse, progressive judges.
She previously served as a policy attorney and program manager for United Sikhs, where she focused on human and civil rights advocacy on behalf of minority communities internationally, with an emphasis on post-9/11 discrimination concerns. There she founded United Sikhs' national Anti-Bullying Campaign to proactively assist victims of bullying in partnership with the White House Anti-Bullying Initiative and the U.S. Department of Education, and as co-counsel, Anisha won a historic anti-discrimination case against the U.S. Army.
Anisha brings with her more than a decade of experience in public interest and social justice work, with a strong grassroots organizing and legal background. Anisha's background includes immigration, gun violence prevention, AAPI engagement, race and ethnicity, religion, employment discrimination, labor, civil rights, international criminal justice, and trial advocacy. Anisha received her B.A. with summa cum laude honors in political science and communication studies from Florida State University and received her J.D. from the University of Virginia School of Law. She is barred in Washington, DC and Maryland and was named one of Forbes Magazine's "30 under 30″ for law and policy in 2016.