Getting it Passed is Only the First Step: Enacting and Enforcing Local Labor Laws
Session Type(s): Panel
Starts: Saturday, Jul. 13 2:15 PM (Eastern)
Ends: Saturday, Jul. 13 3:15 PM (Eastern)
The City of Philadelphia has made good strides in passing local labor laws that fill the gaps in worker protection that are unfilled by state and federal labor law. However, the City currently has a very small operation for enforcing these laws, and basically no plan at all to educate low-wage workers in the city about their rights under these new laws. Hear from workers and organizers with Make the Road PA, the Restaurant Opportunities Center, and One Pennsylvania who are working to beef up the city's enforcement and education operation.
Moderator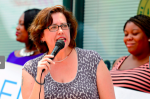 Kati Sipp is the Principal of New Working Majority, a consulting firm. She is also the editor of the blog Hack the Union, which focuses on the intersections of work, organizing and technology. Prior to her work with NWM, she served as the Managing Director for the National Guestworkers Alliance. She founded the Pennsylvania affiliate of the Working Families Party, and spent nine years working for SEIU Healthcare Pennsylvania, serving as the statewide Political Director and Executive Vice President of the local.
Kati began working with SEIU in California in 1997, where she was an internal organizer, working with classified school employees. She left California in 1999 to move back to the East Coast, and worked for the Philadelphia Unemployment Project, where she organized mothers who were affected by changes in the state's welfare policy. After leaving PUP, she spent time as the director of the Jobs with Justice affiliate in Philadelphia, before going back to SEIU.
Kati is the proud mother of Alina and Isaac. She holds a Bachelor of Fine Arts degree from Mason Gross School of the Arts, Rutgers University.
Panelists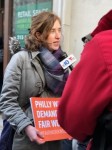 Cecily has been organizing across community, labor, and faith-based spaces for ten years, winning campaigns along the way for local hiring agreements, Fair Workweek, education equity, and higher wages. Originally from Los Angeles, she started her organizing career in Boston as a Jewish Organizing Initiative fellow and later moved to Philadelphia to help build POWER Interfaith. She is deeply committed to leadership development, since she knows that we will never win unless the people most directly impacted by the issues are leading our fights. She lives in West Philly with her family and is a proud mom, cat mom, and aunt.
California born and daughter of Salvadoran immigrants, Katia Perez is currently the Philadelphia Lead Organizer at the Latinx justice organization Make the Road PA. She's a fierce advocate for workers, womens, and immigrants rights in her community. With Make the Road PA, Katia is working with One PA, ROC, Temple Law Shellar Center and several other local organizations to bring stronger labor rights enforcement for the workers of Philadelphia.
Katia Perez holds a bachelor's degree in both Political Science and Latin American Studies from Temple University and resides in Lower Northeast Philadelphia.
Terrence Wiggins is a lifelong Philadelphian. He got involved in the fight for a Fair Workweek when his hours at Target were getting cut as retaliation for changing his availability to help care for his nephew. Since then, he's been a fearless One PA leader, recruiting coworkers, speaking at actions, and standing up for workers' rights.