Addressing Sexual Harassment and Discrimination in Philadelphia Restaurants: A Case Study
Session Type(s): Panel
Starts: Thursday, Jul. 11 3:45 PM (Eastern)
Ends: Thursday, Jul. 11 4:45 PM (Eastern)
What can we learn from examining sexual harassment in a celebrated restaurant scene thriving in a poverty-stricken city? With low wages, majority female workers, rampant wage theft, and a large immigrant workforce, it's little wonder most EEOC sexual harassment complaints come from restaurants. On this panel, we'll discuss the challenges of addressing sexual harassment in restaurants and highlight local innovative advocacy efforts including mobilizing workers, promoting a multi-faceted policy agenda including One Fair Wage, and a new coalition of anti-rape advocates, city officials, and public interest lawyers working directly with restaurant owners and workers.
Moderator
Amal Bass, Esq. has been a staff attorney at the Women's Law Project since 2006. Bass works in a wide variety of areas, including pregnancy/caretaking discrimination and accommodation, Title IX athletic equity and sexual harassment, employment rights, and domestic and sexual violence. Her legal work includes providing representation and assistance to many individuals who have experienced pregnancy discrimination, denial of breastfeeding opportunities, and inadequate responses by educational institutions to sexual harassment and violence. Amal received her BA from Yale and her JD from Harvard.
Panelists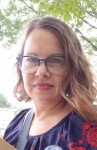 Nadia Hewka joined Community Legal Services' Employment Law Project in 1997. She represents low-income Philadelphia workers in a range of legal matters having to do with workplace abuses. She has developed specializations in the rights of immigrant workers, addressing child abuse records as a barrier to employment, and the employment rights of individuals with criminal records. She has successfully argued before the Pennsylvania Supreme Court. Her advocacy work has centered on issues of concern for low wage workers, such as raising the minimum wage, wage theft enforcement, and paid sick leave. She is currently working with the ICE Out of Courts Coalition and with the PA Domestic Workers Coalition. She is one of the founders of the Coalition for Restaurant Safety and Health, a project designed to prevent sexual harassment in Philadelphia restaurants.
In addition to her legal work, she spent 5 years as the Board Chair of the Pennsylvania Immigration and Citizenship Coalition, and six years serving as the president of Philadelphia Legal Services Union, the union representing CLS and PLA attorneys. She has served on the Pennsylvania Minimum Wage Advisory Board since its inception.
She received her J.D. from the Temple University School of Law in Philadelphia, PA in 1995 and her B.A. from the University of Pennsylvania in 1990. She is the daughter of immigrants and speaks Spanish, Ukrainian, and a bit of French and Arabic.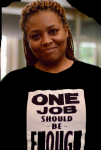 Janna Morton is a worker and member of CRSH's worker committee. She has been working at the American Airlines Admirals Club at the Philadelphia Airport as a lounge attendant for 3 1/2 years. She has been involved as a worker committee leader with Unite Here Local 274 for the last 2 1/2 years. The decision to join her union as a leader was for her a no brainer. Her former employer was breaking several laws and her healthcare was extremely expensive. After working with her own coworkers to improve their working conditions, she has taken a taken on a more active role with her union as an organizer because she wants to help other workers with the issues she faced and still faces today, including sexual harassment.