How Primaries Build Power and Transform What is Possible
Session Type(s): Panel
Starts: Thursday, Jul. 11 9:00 AM (Eastern)
Ends: Thursday, Jul. 11 10:00 AM (Eastern)
Join campaigners who are supporting grassroots movements engaged in primary work across the country. Let's talk about some lessons learned in 2018 and talk through the opportunities we should expand upon during this major cycle—up and down the ballot. Hear these organizers share learnings about primaries, power and gains made across races in Florida, Georgia, Pittsburgh, Wisconsin, Massachusetts and New York. The panelists represent a mix of primary engagement efforts on different levels of the ballot and all types of primaries, challengers and open, national, local and statewide efforts that were and are important to re-shifting power in ways that decenter whiteness and money.
Moderator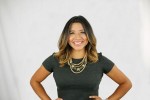 María Urbina is Indivisible's National Political Director leading national political strategy and electoral campaigns. In this role, Urbina is charged with developing Indivisible's national electoral engagement strategy by defining electoral objectives, priorities and targets and leading Indivisible's grassroots national endorsement program to grow independent political power and usher progressive gains in all 435 congressional districts.
Other sessions: 2019 Latinx Power! El Poder de Las Latinas en Las Elecciones
Panelists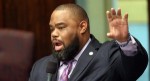 State Senator Dwight M. Bullard hails from an esteemed educator, community activist and legislator family. His mother, Larcenia J. Bullard is a former school teacher, administrator, education consultant and member of the Florida House of Representatives from 1992-2000. She was later elected to the Florida Senate in 2002 and has continued to serve since. His father Edward B. Bullard is a former educator, assistant principal, and former member of the Florida House of Representatives from 2000-2008. In 1981, Dwight moved to Miami, where he was raised in the community of Richmond Heights. After graduating from Miami Killian Sr. High, he continued his education at Florida A&M University where he received his B.S. in History Education. From 2000 to 2017, Sen. Bullard was a teacher at Coral Reef Senior High School and in 2008 he was sworn into office as representative of District 118 and was reelected subsequently. He served as a member of the Agriculture & Natural resources policy committee, the Prek-12 appropriations committee, Prek-12 education policy committee and several others. At the time, then Representative Bullard was named Democratic ranking member of the PreK-12 education policy committee after his first term and became Democratic ranking member of the education committee subsequently. In 2012 Senator Bullard was elected to the Florida Senate where he served as Vice Chair of the Transportation and Agriculture committees and maintained membership on Education and several other committees. In his time in the Senate, Bullard worked to stop online bullying, bring tuition equity to aspiring citizens and raise the minimum wage. Bullard served in the Florida Senate until 2016.
His extensive and remarkable role in political and educational leadership has granted him tremendous recognition; Bullard was a recipient of the Florida Education Association's Freshman Friend of Public Education Award and Friend of Education Award, and the Florida Association of School Administrators' Next Generation Leader Award and the Young Elected Officials Barbara Jordan Leadership Award. Senator Bullard is also affiliated with the Miami-Dade Democrats where he has served as Chair and was awarded the Miami-Dade Young Democrats Outstanding Leadership Award. He retains membership in the Democrats of South Dade Club, the Ron Brown Democratic Caucus, 100 Black Men of South Florida, as well as, the J. L. King Prince Hall Masonic Lodge and the Richmond-Perrine Alumni Chapter of the Kappa Alpha Psi Fraternity, Incorporated.
In 2017 Bullard was hired as the Political Director of the New Florida Majority. In this capacity he works to bring political education and awareness to underserved and often marginalized communities. He also works to push policy to positively impact those same communities. His work now much like his previous roles looks to uplift people in a way that makes them the masters of their own destiny. He continues to simply amplify the voice of those often unheard.
Other sessions: Democracy Rising: How Florida Took on Felony Disenfranchisement and Won!
Nelini Stamp is the National Organizing Director at the Working Families Party. She works with volunteer leaders across the country to build local progressive infrastructure. Nelini joined the New York Working Families Party staff in 2008; door knocking and field organizing for a variety of electoral campaigns across New York State. Since then, she has been deeply involved in social movement work around economic and racial justice across the country. She worked on the ground at Occupy Wall Street to help bridge the gap between labor, community- based organizations and Occupy activists. Afterward, Nelini co-created the Freedom Side and co-founded Dream Defenders in Florida, which organizes and trains youth in non-violent civil disobedience, civic engagement, and direct action. Lately, as a co-builder of WFP's Resist Here project, which launched #ResistTrumpTuesdays, she has been chasing Senator Schumer around to make sure he stands up to Trump. You can often find her leading marches, rallies and mic-checking at direct actions.