Session Type(s): Panel
Starts: Saturday, Jul. 13 9:00 AM
Ends: Saturday, Jul. 13 10:00 AM
Room: 119A
Progressive organizations have long maintained transactional relationships with communities of color that have further traumatized already marginalized communities. There is an immediate need to shift our strategies on the left towards a more culturally considerate, community driven way of organizing, mobilizing and healing in order for us to achieve deeper trust and longterm victories. Join us to discuss how allies and advocates should engage and develop genuine relationships and nuanced strategy that is intentional and culturally appropriate.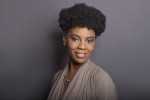 Brittny Baxter is the Training and Movement Building Coordinator for Democracy Initiative. She is responsible for the Democracy Champions training program and Bayard Rustin Democracy Fellowship Program for POC and LGBTQ folks that will be the next generation of movement leaders. Brittny has organized in various capacities over the past decade. Most recently, she was a Regional/Trainer in Broward County for the coordinated efforts to elect Andrew Gillum and the Winning Ticket. Prior to the 2018 midterm elections, she managed a statewide program in partnership with Re: Power (formerly Wellstone Action) to provide training for progressive Democrats, their campaign managers and grassroots organizers to run and win effective campaigns. She is also a trainer for the National Democratic Training Committee.
Brittny hails from the rustbelt city of Buffalo NY, where she cut her teeth on local and state legislative races. She is the former Upstate Legislative Organizer for New York Working Families, where she fought to mobilize and unite labor, EJ, racial justice and community groups across the state on various bills. She has worked on several issue campaigns, from environmental justice and safe staffing to the Fight for $15 and reproductive rights.
A strong supporter of labor and a former AFT organizer for NYSUT, she is committed to the fight for equity for all. "I stand with the poor, people of color, LGBTQ folks, immigrants and organized labor, because our liberation is bound together."