Starts: Thursday, Jul. 11 12:00 PM (Eastern)
Ends: Thursday, Jul. 11 1:00 PM (Eastern)
Join the Black Caucus to discuss cultural opportunities throughout the African Diaspora.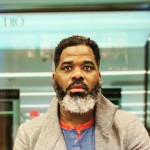 W. Mondale grew up—one of thirteen children—in an environment riddled with all the norms of poverty, for a Southern Black family. That vantage point gave him a front row seat to all that plagues the oppressed and underserved in our nation, and it would eventually be at the root of all of his work. At an early age, W. Mondale began seeking answers to accepted social constructs, he quickly saw the need to challenge those flawed ideas and he took the path of solution architect.
After graduating from high school he joined the United States Marine Corps. W. Mondale realized that joining the Corps was admirable, but quickly learned that it was not a mechanism for social change. With this in mind, he entered into the world of politics.

W. Mondale Robinson is the founder of The C. Institute which was a NGO concerned with equitable governance and inter-social treatment for persons of African descent, in countries where they are a minority population. Along with The C. Institute W. Mondale founded two additional organizations; Robinson Political Consultants and Management Group (RPCMG) and Free Born Blacks. W. Mondale has worked on more than 125 campaigns (local, statewide, federal, and international). He also leads #ALLACTION which is an online organizing group that specialize in tech-community organizing, training for successful civil disobedience actions, and strategic advocacy planning.
He has appeared on television news programs such as: Democracy Now, Al-Jazeera, NPR, Fox, and ABC. He has political and cultural columns on The Village Celebration and Arkansas Talks, two publications that focus on Black lives. He is also the Political Contributor for The Village Celebration and By Any Means Necessary two syndicated radio shows.
Other sessions: Black People are Not a Monolith: Engaging and Organizing the Communities Within the Diaspora