Session Type(s): Caucus
Starts: Thursday, Jul. 11 12:00 PM (Eastern)
Ends: Thursday, Jul. 11 1:00 PM (Eastern)
Room: 125
Join Asian Americans and Pacific Islanders from across the country to learn about some of the great work being done in AAPI movement and in shifting the progressive political narrative within the community. We'll make friendships, celebrate our successes, and host a critical dialogue on the digital narrative shift needed for AAPIs leading up to 2020. Be prepared to share. The caucus will be hosted by the team at 18 Million Rising. This is a closed caucus.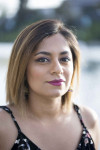 Tanzila "Taz" Ahmed is an activist, storyteller, and politico based in Los Angeles. An electoral organizer by trade, she's mobilized thousands of Asian American & Pacific Islanders to the polls in over seventeen different languages in the past fifteen years at various non-profit organizations, starting with founding South Asian American Voting Youth in 2004. She currently is a Campaign Strategist at the Asian American new media organizing group 18MillionRising.
In 2016, Taz was honored as a White House Champion of Change for Asian American and Pacific Islander Art and Storytelling and in 2017 as UCLA Luskin Alumni of the Year. She is cohost of The #GoodMuslimBadMuslim Podcast that has been featured in Oprah Magazine, Wired, and Buzzfeed as well as live shows recorded at South by Southwest and the White House.
An avid essayist, she had a monthly column called Radical Love and has written for Sepia Mutiny, Truthout, The Aerogram, The Nation, Left Turn Magazine, and more. She is published in the anthologies Modern Loss (2018), Six Words Fresh Off the Boat (2017), Good Girls Marry Doctors (2016), Love, Inshallah (2012) and poetry collection Coiled Serpent (2016). Her third poetry chapbook Emdash and Ellipses was published in early 2016. Taz curates Desi music at Mishthi Music where she co-produced Voices of Our Vote: My #AAPIVote Album (2016) and Beats for Bangladesh (2013). Her artwork was featured in Sharia Revoiced (2015), in Smithsonian Asian Pacific American Center's "H-1B" (2015), and Rebel Legacy: Activist Art from South Asian California (2015). She also makes disruptive art annually with #MuslimVDay Cards.
Other sessions: Align Left: Why Designers are Integral to the Resistance
Laura Li is a Campaigner at 18MillionRising.org, a digital first Asian American advocacy organization, where she develops and executes its issue campaigns grounded in local organizing and stories from the margins. She has worked on campaigns ranging from unjust deportation and surveillance to media justice and pop culture, and has spoken about her work on Capitol Hill. Her previous work in teaching and research on race relations within the Asian Diaspora has led her to speak at U.S. and Brazilian universities.
Other sessions: This All Used to be Chinatown: Building Grassroots Power, Building Community Power: Media-Based Organizing as Resistance