The Race Paper and other Secret Documents: How the FBI and DHS are Surveilling and Criminalizing Black Protest
Session Type(s): Panel
Starts: Thursday, Aug. 2 11:30 AM (Eastern)
Ends: Thursday, Aug. 2 12:45 PM (Eastern)
In 2017, under court order, the Department of Homeland Security and FBI turned over hundreds of pages of emails, reports, policies and other documents to the Center for Constitutional Rights and Color Of Change. These documents reveal government surveillance of the Movement for Black Lives, and Black activists and organizers. They show how federal agencies characterized protesters as "Black Supremacist Extremists" and portrayed protected First Amendment protest activity as inciting violence to justify surveillance. These documents also reveal for the first time the existence of a report produced by the DHS Intelligence and Analysis office called the "Race Paper" and that is entirely blacked out in reliance on the National Security Act. We must refocus attention on law enforcement's historic and current suspicion and targeting of Constitutionally-protected political speech and call for accountability.
Moderator
Panelists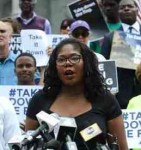 Brandi Collins-Dexter is the Senior Campaign Director at Color Of Change and oversees the media, democracy and economic justice departments. She has led a number of successful campaigns for accountability including getting Fox's The O'Reilly Factor taken off the air; getting R. Kelly dropped from RCA for his repeatedly abusing girls; winning Net neutrality protections; pressuring financial companies to pull funding from hate groups; and persuading Disney not to whitewash the features of their character Princess Tiana.
Brandi is a regular commentator in the media on racial justice. The Hill named her a 2017 "person to watch." She has written for The Root, The Hill and ESPN's The Undefeated, and has been featured on the BBC, and in the Guardian, Gizmodo and Pitchfork.
Other sessions: The FCC's War on the Poor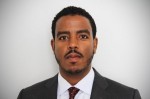 Omar Farah is a Senior Staff Attorney at the Center for Constitutional Rights and is the lead lawyer in Color of Change v. Department of Homeland Security and Federal Bureau of Investigation, which seeks records that reveal the government's expansive surveillance of the Movement for Black Lives. Omar focuses on an array of CCR's litigation and advocacy in response to abusive policing and counterterrorism practices, including the unlawful surveillance of Muslim American communities, the criminalization of dissent, and systemic, unlawful policing practices. For more than a decade, he has also litigated habeas corpus challenges on behalf of several current and former Guantanamo Bay prisoners, including Tariq Ba Odah, who spent nearly nine years on hunger-strike before being released to Saudi Arabia in 2016. Omar regularly speaks about law and policy at the intersection of national security and the criminalization of Black, Brown, and immigrant communities in the United States. His work has been covered by major news outlets, including The New York Times, MSNBC, Democracy Now, and Al Jazeera. Omar's opinion pieces have appeared in Rolling Stone, The Huffington Post and The Global Journal among others. He is a graduate of Columbia University and Georgetown University Law School.
Tabitha Mustafa is a Black Palestinian-American residing in New Orleans, LA. She is the founder and core organizer of New Orleans Palestinian Solidarity Committee and a program associate at American Friends Service Committee. She is a graduate of Tulane University, and her work has been featured in media outlets including Refinery 29, Friends Journal, and The Advocate.
Other sessions: Progressives for Palestinian Rights