The Future of Progressive Pop Culture Organizing
Session Type(s): Panel
Starts: Saturday, Aug. 4 10:00 AM (Eastern)
Ends: Saturday, Aug. 4 11:15 AM (Eastern)
The power of pop culture and fandoms are still largely untapped and unorganized by progressives, despite reaching and influencing millions. By engaging with, responding to, and shaping cultural narratives, organizers can reach new audiences, change the frame and conversation around issues for a mainstream audience, and channel newly engaged viewers into action. We'll discuss the conception of, execution, and lessons learned from past pop culture campaigns, including the #IfIwasTheMayor campaign, the Black Panther #FanActivistCon, and #tellblackstories hashtag. We'll also talk about how you can integrate pop organizing into your own campaigns.
Moderator
Panelists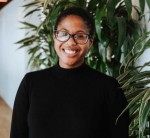 Samantha is an activist and writer who currently works as a Campaign Manager at Color Of Change. Her previous role within Color Of Change's Hollywood team — built to combat harmful representations of Black people in narrative television and film — required extensive social media efforts, which led her to the world of pop culture organizing. She pioneered Color Of Change's #QueenSugar weekly Twitter chats and headed Color Of Change's participation in #IfIWasTheMayor. Through these projects, Samantha has become invested in the power of pop culture organizing, and uses the lessons she learned to fuel her as she continues working to help make the world a better place for Black people.
Samantha grew up in Buffalo, NY, and currently lives in Los Angeles. She graduated from University of Pennsylvania, where she was able to pursue her passion for pop culture and entertainment through her BA in Visual Communication.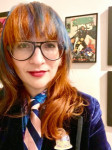 Elana is Program Director at New Media Mentors, the official trainings partner of Netroots Nation. Through NMM progressive organizations can access training in social media skills any time online.
Elana joins New Media Mentors after serving as digital director for labor unions and community based organizations and has lead trainings for over 4,000 progressives as co-founder of the Organizing 2.0 conference.
Listen to Elana's podcast about the intersection of comics, nerd culture and social change, Graphic Policy Radio, on any podcast platform.
Elana tweets about the labor movement, New York politics, online organizing and superhero comics at @Elana_Brooklyn.
Other sessions: Pop Culture Caucus, Live Tweet Your Way to Success, A Wrinkle in Time: Using Pop Culture Stories to Mobilize and Organize Communities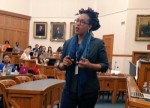 Angelique Roche is an attorney, educator and communications professional with experience in advocacy, legislative policy and electoral politics. Prior to joining the Ms. Foundation, she was the campaign manager for Nina Turner for Ohio Secretary of State.
Roche has worked in both local and national organizing, having served as a regional field director for Organizing for America North Carolina and as a campaign director for MomsRising.org. She currently owns her own consulting firm, A Squared Strategies.
Roche is the founder of The Washington Middle School for Girls Civic Engagement Program, an externship giving young women in Washington, DC the opportunity to engage in hands-on civics classes at the U.S. Capitol.
Roche currently serves as a board member at the Women's Campaign School at Yale University. She holds a LL.M in International and Comparative Law, a Juris Doctorate and a Bachelors of Arts in Mass Communications.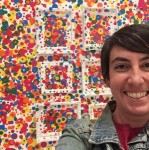 Francoise has spent her career working to protect and strengthen democracy in the U.S. and around the world. Beginning with working as a field organizer in Iowa for Dick Gephardt and in Florida for EMILY's List, to working with global partners on digital and communications strategies at the National Democratic Institute, to telling the story of small-donor public financing and its potential to revitalize politics at Every Voice, the common thread running through her career is that everyone deserves to be treated with dignity and every voice should be heard.