A Wrinkle in Time: Using Pop Culture Stories to Mobilize and Organize Communities
Session Type(s): Training
Training Tag(s): Communications
Starts: Friday, Aug. 3 1:00 PM
Ends: Friday, Aug. 3 2:15 PM
Room: R03
Trump tapped into stories like "Leave it to Beaver" and "The Birth of a Nation" and rode them to victory. Our side has better stories; we just need to be more strategic about using them. Progressive stories like "Coco" or "Black Panther" fill movie screens and the popular fiction the public devours. We must understand how stories work and learn to use them in our strategy. Stories should not be an afterthought to get a few more clicks on a cute graphic. The creative strategies we teach will help you identify stories in popular culture and story archetypes that the people you seek to mobilize respond to. We'll identify where and how those stories are best told and map out how to integrate them into your organizing work and use them to win.
Trainers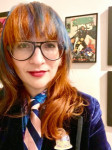 Elana has worked at the intersection of popular culture and online organizing for over a decade, connecting nonprofits with pop culture creators and fans and applying the lessons of storytelling to the fight for social and economic justice. She co-organized the Black Panther #FanActivistCon and hosts Graphic Policy Radio podcasts ("Where comics and politics meet").
Elana is Program Director at New Media Mentors, the official trainings partner of Netroots Nation. Through NMM progressives can access individual training in social media skills any time online.
She joins Netroots Nation's staff after serving as digital director for labor unions and community based organizations and has lead trainings for over 3,000 progressives as co-founder of Organizing 2.0. Elana tweets about the labor movement, online organizing and superhero comics at @Elana_Brooklyn.
Other sessions: The Future of Progressive Pop Culture Organizing, Pop Culture Caucus, Live Tweet Your Way to Success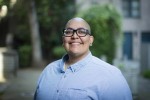 Felicia is currently the Innovation Director for CSS. She most recently served as CSS' Communications Director and was previously the United Workers Congress Communications Strategist. Her previous organizing & member support experience includes work for The ACLU of Southern California, the California-No on Prop 21 campaign, Californians For Justice, UC Santa Barbara External Vice President of Statewide Affairs, and Chair of the National Queer Students of Color Caucus/board member of the U.S. Student Association (USSA). Felicia holds a B.A. from the University of California, Santa Barbara and a Master's in Curriculum and Instruction. Prior to her work in strategic communications, she taught middle & high school social studies for twelve years in the Los Angeles Unified School District where she was also an active union leader and chapter chair for United Teachers of Los Angeles.