Live Tweet Your Way to Success
Session Type(s): Training
Training Tag(s): Basic Online Organizing
Starts: Thursday, Aug. 2 3:30 PM (Eastern)
Ends: Thursday, Aug. 2 4:45 PM (Eastern)
Live tweeting protests, panels, elections days, conferences (like the one we're at today!) and even TV shows are some of the most effective ways to grow an engaged Twitter following for yourself and/or your organization. We'll share strategies for live tweeting that you can use right away so that your being at #NN18 will grow your Twitter account. We'll show the value of leveraging personal and organizational Twitter accounts together. Learn how popular culture moments like award shows and TV twitter present opportunities for Twitter engagement beyond your existing base. Skill level: If you or your organization has a Twitter account and use it, even occasionally and poorly, you'll be good to go. If you've never seen Twitter before, this may not be a fit.
Trainer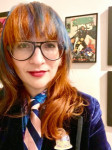 Elana is Program Director at New Media Mentors, the official trainings partner of Netroots Nation. Through NMM progressive organizations can access training in social media skills any time online.
Elana joins New Media Mentors after serving as digital director for labor unions and community based organizations and has lead trainings for over 4,000 progressives as co-founder of the Organizing 2.0 conference.
Listen to Elana's podcast about the intersection of comics, nerd culture and social change, Graphic Policy Radio, on any podcast platform.
Elana tweets about the labor movement, New York politics, online organizing and superhero comics at @Elana_Brooklyn.
Other sessions: The Future of Progressive Pop Culture Organizing, Pop Culture Caucus, A Wrinkle in Time: Using Pop Culture Stories to Mobilize and Organize Communities