Organizing for Palestinian Rights & Building Cross-Movement Connections
Starts: Saturday, Aug. 4 10:00 AM (Eastern)
From local to state to national politics, the grassroots movement for Palestinian rights is taking on and transforming power. We are joining together organizers who are interested in Palestine solidarity within a progressive foreign policy, with an emphasis on joint struggle and the power of forging genuine cross-movement connections. This caucus is welcome to people in all parts of the social justice ecosystem with an interest in learning from or joining with the Palestinian rights movement in the US. The first 20 attendees with receive our limited edition "From Palestine to Mexico, All the Walls Have Got To Go" tote bags! Join us!
Moderators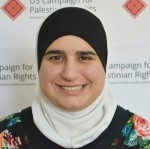 Ramah serves on the board of the Washington Peace Center and is a member of the National Committee of the War Resisters League. She also organizes with the Syrian Solidarity Collective and has been an activist with other organizations including the Arab American Action Network. She has a M.A. in Conflict Resolution from Georgetown University and a B.S. in Journalism from Northwestern University.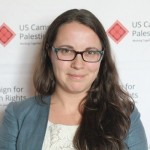 Leah joined USCPR in 2017. In addition to managing USCPR's national advocacy, Leah organizes locally in DC around racial justice, gender justice, and safety beyond policing, including with the Occupation Free DC campaign. She has steered a successful campaign to defeat a youth curfew proposal, helped win increased campus resources to support survivors of sexual violence, and organized trainings to facilitate those most impacted by state violence and gender-based violence to speak truth to power and transform policy. Prior to her work at USCPR, she worked with the Friends Committee on National Legislation and organized with Students for Justice in Palestine.