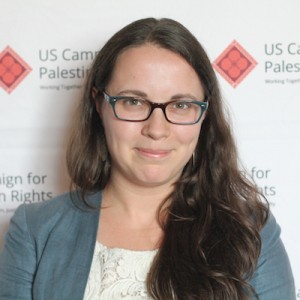 Manager of Congressional and Grassroots Advocacy
US Campaign for Palestinian Rights

Leah joined USCPR in 2017. In addition to managing USCPR's national advocacy, Leah organizes locally in DC around racial justice, gender justice, and safety beyond policing, including with the Occupation Free DC campaign. She has steered a successful campaign to defeat a youth curfew proposal, helped win increased campus resources to support survivors of sexual violence, and organized trainings to facilitate those most impacted by state violence and gender-based violence to speak truth to power and transform policy. Prior to her work at USCPR, she worked with the Friends Committee on National Legislation and organized with Students for Justice in Palestine.
Netroots Nation participation