LGBTQ Women Out to Win
Session Type(s): Featured Panel
Starts: Friday, Aug. 3 11:30 AM (Eastern)
Ends: Friday, Aug. 3 12:45 PM (Eastern)
Women candidates encounter a myriad of obstacles to running for office that their men counterparts rarely face. Yet LGBTQ women candidates face the additional challenges of homophobia and transphobia—not to mention racism for LGBTQ women of color. Hear from some of the nation's leading candidates and elected officials about the challenges and opportunities of running as an out LGBTQ woman. Also hear about the unprecedented number of LGBTQ women running for office this cycle, and the importance of increasing representation in government.
Moderator
Panelists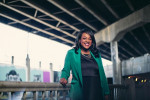 Representative Leslie Herod was elected in 2016 as the first LGBTQ African American in the Colorado General Assembly. Since then, she has passed 68 bills, addressing criminal justice reform, mental health, addiction, youth homelessness, and civil rights protections. Some of her signature work includes: ending cash bail for minor offenses, de-felonizing drug possession, giving every Colorado newborn a $100 college kickstarter account, providing free menstrual hygiene products to inmates in Colorado's prisons and jails, and passing a comprehensive police accountability bill following the highly public murder of George Floyd, and the nationwide movement that followed.
In addition to winning reelection in 2018, Herod championed a ballot initiative—Caring for Denver—that raises $35 million annually for mental health and substance abuse treatment and services for children and adults. Herod is the Chair of the House Finance Committee, Vice Chair of the House Judiciary Committee, Chair of the Committee on Legal Services, and the Chair of the Colorado Black Democratic Legislative Caucus.
Other sessions: Black Women Teach: Electoral Perspectives from Black Women Electeds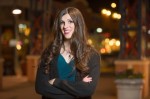 Danica Roem represents the 13th District in the Virginia House of Delegates including the City of Manassas Park, Town of Haymarket, and Prince William County portions of Manassas and Gainesville. Danica is a 33 year old step-mom, lifelong resident of Prince William County, and the former lead reporter of the Gainesville Times. She ran for office to bring a reporter's eye to Richmond and to speak truth to power.
Danica's inspiring and transformative campaign gained national and international attention. Her victory was secured by sticking to the issues that matter most to her constituents, and never shying away from standing up for justice. As the first out transgender woman elected to a state legislature, Danica is blazing a new and unique trail.
During her first legislative session this year, she was proud to champion bills important to her constituents, and to help expand Medicaid to 400,000 people across the state of Virginia. She continues to fight every day for her constituents in the 13th District.