Electoralizing Our Resistance Strategy Lab
Session Type(s): Panel
Starts: Thursday, Aug. 2 2:00 PM (Eastern)
Ends: Thursday, Aug. 2 3:15 PM (Eastern)
A blue wave may come, but don't take it for granted. Real change demands we find an electoral expression of our movements, not just vote blindly for the "not Trump" candidate. This interactive "strategy lab" focuses movement energy on supporting bold ideas centered in racial and economic justice rather than a return to status quo liberalism. Participants will collaborate with panelists to build an open-source digital toolkit for electoralizing our resistance and winning progressive change. Panelists will facilitate four "Strategy Deep Dives," and a team of scribes will assist in capturing notes and developing a toolkit in real time on an accessible platform.
Moderator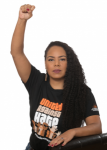 Jennifer Epps-Addison serves as the President and Co-Executive Director of the Center for Popular Democracy and CPD Action's network of partner organizations throughout the country. As President, Jennifer leads CPD's racial justice campaigns, and works closely with its network of local affiliates.
Jennifer boasts over 15 years of community organizing experience, advancing systems-change campaigns for economic and racial justice. Prior to joining CPD, Epps-Addison was the Chief Program Officer for the Liberty Hill Foundation, a social justice foundation in Los Angeles that funds grassroots community organizing campaigns for social change. A native of Milwaukee, WI, Epps-Addison helped coordinate the Fight for $15 campaign as the Executive Director of Wisconsin Jobs Now.
Epps-Addison is the recipient of the 2013 Edna Award from the Berger-Marks Foundation, which honors an outstanding young woman each year for her leadership in fueling social change. In the same year, she was named an 'Activist to Watch' by Bill Moyers. She earned her BA in Political Science and Women's Studies and her JD from the University of Wisconsin. Prior to her return to organizing, Jennifer was a trial attorney in the Wisconsin State Public Defender's Office.
Epps-Addison, a leader who has deep experience building power in communities from the ground up, joins the Center for Popular Democracy at a time when local community voices matter more than ever in creating a nation-wide movement to fight for dignity and opportunity for all people. She brings with her a commitment to supporting and growing black-led organizations, strengthening investments in power-building efforts in communities of color, and deepening organizing strategies that build power with the white working class by addressing racism head-on and building authentic alliances based on shared interests and shared values.
Awards and recognition:
• 'Activist to Watch' by Bill Moyers in 2013
• 2013 Edna Award from the Berger-Marks Foundation, which honors an outstanding young woman each year for her leadership in fueling social change.
Panelists
Nelini Stamp is the National Organizing Director at the Working Families Party. She works with volunteer leaders across the country to build local progressive infrastructure. Nelini joined the New York Working Families Party staff in 2008; door knocking and field organizing for a variety of electoral campaigns across New York State. Since then, she has been deeply involved in social movement work around economic and racial justice across the country. She worked on the ground at Occupy Wall Street to help bridge the gap between labor, community- based organizations and Occupy activists. Afterward, Nelini co-created the Freedom Side and co-founded Dream Defenders in Florida, which organizes and trains youth in non-violent civil disobedience, civic engagement, and direct action. Lately, as a co-builder of WFP's Resist Here project, which launched #ResistTrumpTuesdays, she has been chasing Senator Schumer around to make sure he stands up to Trump. You can often find her leading marches, rallies and mic-checking at direct actions.
Other sessions: Looking to the Brown Belt for 2018 and Beyond, Fighting the Global Right (Sponsored Panel)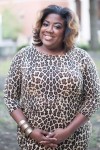 DeJuana Thompson is a partner at Think Rubix, LLC, and the creator of Woke Vote. Thompson has over 15 years' worth of diverse experience serving as a fierce community advocate, political strategist and problem-solver.
Thompson is the creator of "Woke Vote" a program specifically designed to engage, mobilize and turnout an unprecedented percentage of African American millennial and faith based voters in Alabama. The program made over 100,000 contacts helping to propel a Democrat from Alabama to the U.S. Senate for the first time in 25 years.
Prior to joining Think Rubix, Thompson served as National Deputy Director for Community Engagement and the National African American Engagement Director for the Democratic National Committee (DNC), where she managed relationships with national allied organizations on key strategies to engage various constituency groups.
Before working at the DNC, Thompson was appointed by the White House to serve as a Senior Advisor in the U.S. Small Business Administration (SBA) managing the agencies' national allied programming and outreach strategy particularly focused on increasing opportunities for minority-owned small businesses.
Thompson also has significant experience working in Democratic politics, holding director level positions with Senator Cory Booker's Senate Campaign; the 2013 Presidential Inauguration; serving on senior level staff for both of the Obama Presidential campaigns.
Other sessions: Friday Keynote: "Hidden Figures" Panel Discussion plus remarks from Sen. Kamala Harris and Sen. Elizabeth Warren, Black Women Power: Investing in the Communities that Propelled Our Biggest Electoral Victories of 2017