Looking to the Brown Belt for 2018 and Beyond
Session Type(s): Panel
Starts: Saturday, Aug. 4 3:00 PM (Eastern)
Ends: Saturday, Aug. 4 4:15 PM (Eastern)
While much of the 2016 election centered on the Rust Belt, the next and future elections will have more to do with the Brown Belt—states with significant and increasing numbers of Latino voters stretching from California through the southwest to Texas. This panel will discuss how building political power by focusing on the large young Latino population in these key states will help narrow the gap in voter participation and influence upcoming critical elections. We'll take a look at recent elections like those in Virginia and New Jersey where progressive groups worked to turn out Latino voters.
Moderator
Jessica is a COO at Voto Latino, a civic media organization shaking up the political processes to bring underserved youth voices into fold. In her role as COO, she is responsible for developing and managing key partnerships, including co-founding National Voter Registration Day, and shepherding creation of high-impact digital tools. Most recently she led the development of VoterPal, a peer-to-peer app that allows anyone to register a friend or family member to vote through innovative ID scanning technology.
A millennial herself, she has spoken at various national conferences and convenings including UN's annual Forum on Minority Issues in Geneva, various Aspen Institute convenings on Latino civic engagement, SXSW (South by Southwest), AFL-CIO's Civil, Human and Women's Rights Conference, and many more. Her interviews have appeared in Univision, Telemundo, CNN, NBC, American Prospect, Washington Post, USA Today, and others. Jessica serves on the boards of Priorities USA, NonProfit Votes and Indivisible Austin.
Prior to joining Voto Latino, Jessica worked in General and Hispanic Market advertising where she helped launch award-winning digital and social media marketing campaigns for major brands, including Kraft, Twix and Domino's Pizza, among others. Jessica earned a BA from Boston College and a MA from Georgetown University. A native of El Paso, TX, she currently lives in Austin with her husband.
Panelists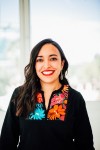 Sarah Audelo is the Executive Director of the Alliance for Youth Action, the nation's largest youth grassroots organizing network in the country. An organization that is "of young people, by young people, for all people," the Alliance works to build political power with young people across the United States.
Sarah's passion is centering and uplifting young folks, and particularly young folks of color, in progressive movements and institutions. Before joining the Alliance, Sarah served as Hillary Clinton's Millennial Vote Director in the 2016 election. She has experience as an organizer and advocate for the Millennial generation, working on economic justice, reproductive rights, LGBTQ rights, civic engagement, and more at organizations including Advocates for Youth and Generation Progress.
After graduating from Georgetown University, Sarah was a special education teacher with Teach for America in the Rio Grande Valley. She is originally from Bakersfield, California and lives in Northeast Washington, DC.
Nelini Stamp is the National Organizing Director at the Working Families Party. She works with volunteer leaders across the country to build local progressive infrastructure. Nelini joined the New York Working Families Party staff in 2008; door knocking and field organizing for a variety of electoral campaigns across New York State. Since then, she has been deeply involved in social movement work around economic and racial justice across the country. She worked on the ground at Occupy Wall Street to help bridge the gap between labor, community- based organizations and Occupy activists. Afterward, Nelini co-created the Freedom Side and co-founded Dream Defenders in Florida, which organizes and trains youth in non-violent civil disobedience, civic engagement, and direct action. Lately, as a co-builder of WFP's Resist Here project, which launched #ResistTrumpTuesdays, she has been chasing Senator Schumer around to make sure he stands up to Trump. You can often find her leading marches, rallies and mic-checking at direct actions.
Other sessions: Fighting the Global Right (Sponsored Panel), Electoralizing Our Resistance Strategy Lab