Digitally Organizing the Latinx Generation
Session Type(s): Panel
Starts: Saturday, Aug. 4 9:00 AM
Ends: Saturday, Aug. 4 10:00 AM
Room: 215/216
Latinx millennials are the largest group of eligible voters in the US, comprising nearly half of total eligible Latino voters. However, Latino voters are not turning out at the rates they could be. As we move closer towards the midterms and the 2020 presidential election, inspiring, registering, and engaging the Latinx millennial population is of paramount importance. 2018 could be the first year Texas, a Latino-majority state, elects a Democrat to the Senate since 1993 — a seismic shift in national politics. If Democrats want to flip the House in 2018 and make sure Donald Trump becomes a one-term President in 2020, we need to ensure Latinx millennials are tuned in and turn out.
Moderator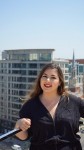 An experienced digital native, Abby came to Latino Victory from Mothership Strategies, a full-service digital political consulting firm. At Mothership, she grew and managed online brands across multiple social media platforms for Mothership's clients, and created engaging social media and email campaigns.
Prior to Mothership, Abby was an organizer for the Planned Parenthood Action Fund and the Hillary Clinton campaign in Nevada, Kansas, Washington and Colorado.
An organizer since age 11, Abby is passionate about political engagement, both off-and-online. She graduated from American University with a BA in International Politics and Law
Panelists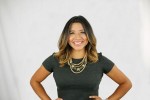 María Urbina is Indivisible's National Political Director leading national political strategy and electoral campaigns. In this role, Urbina is charged with developing Indivisible's national electoral engagement strategy by defining electoral objectives, priorities and targets and leading Indivisible's grassroots national endorsement program to grow independent political power and usher progressive gains in all 435 congressional districts.
Other sessions: Latinx Voting Power! El Poder de las Latinas en las Elecciones