Want to Run for Office? We Want to Help! (Sponsored Panel)
Session Type(s): Panel
Starts: Friday, Aug. 11 2:30 PM (Eastern)
Ends: Friday, Aug. 11 3:45 PM (Eastern)
Room: Regency V
Your neighbors want you to run. Your friends and family want you to run. We want you to run! The progressive movement is investing real resources to make sure talented candidates at every level have the tools they need not just to run, but to build strong campaigns. There are organizations across the country that are ready to recruit, train, and support new candidates, as well as networks of activists who are ready to start organizing for those candidates. We want to make sure every person thinking about running knows what's available to them.
This panel is sponsored by ActBlue.
Moderator
Patrick is the Outreach Director at ActBlue, an organization that builds fundraising software for campaigns and organizations. He leads a team of organizers who reach out to and work with groups of all sizes on the left to help them run effective small-dollar fundraising programs. Before ActBlue, Patrick worked in field for the Obama campaigns in 2008 and 2012. He believes strongly that democracy works best when passionate citizens — like field volunteers and small-dollar donors — actively participate in politics at the national and local levels.
Panelists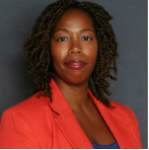 Mũthoni Wambu Kraal is the National Political & Organizing Director at the Democratic National Committee. In this role, she directs the electoral and organizing strategy as well as investments of the party committee. She has been in progressive politics for over two decades and is well-accustomed to the warp speed of grassroots organizing. As the DNC National Political and Organizing Director, she leads a top-notch team of strategists. She is part of an intergenerational team that values diversity and the strength it's bringing to the work. Mũthoni along with her team, is dedicated to working in every state to elect Democrats up and down the ballot and to build the power of our communities in the party.
Previously, she served as the Vice President of National Outreach and Training at EMILY's List, where she oversaw their training programs, and created strategic partnerships with the progressive community and beyond.
It was during 2 cycles at the Democratic Congressional Campaign Committee raising money for candidates and Congressional incumbents in tough races that she learned about the world of campaigns and the important role fundraising plays in winning campaigns. She also saw up close that some of the most underrepresented groups in Congress—women and people of color—weren't keeping up with the growing influence of money in elections.
In addition, Wambu Kraal co-opened and ran a woman-owned fundraising firm that serviced clients at every level of political office. She served as the PAC Coordinator for the AFL-CIO, and served as the deputy political director for then-U.S. Senator Joe Biden. In 2008, she was the deputy campaign manager and political director for Senator Kay Hagan's successful race against Senator Elizabeth Dole in North Carolina.
Wambu Kraal was born in Chicago and spent her formative childhood years in New York City. Raised by two passionate educators who met because of their community activism, she attributes her dedicated interest in politics to parental osmosis. This includes the subtle fact that she could hold protest signs before she could walk.
A graduate of Howard University where she earned a B.A. in journalism. Wambu Kraal is a member of Delta Sigma Theta Sorority, Incorporated and a lifetime member of the American Council of Young Political Leaders. She resides in Washington, DC with her husband John Peter and their young son Mirii. The boy is subject to the same parental osmosis as she was growing up. He's been standing with women before he could physically stand.
Lala is Co-Founder and Director of Engagement & Partnerships at the Sister District Project, a national grassroots organization founded in the wake of the 2016 election with the goal of strengthening democratic majorities in the states to build progressive power nationwide. Since its founding, it has grown continuously to ~45,000 members and 100+ active teams and affiliates, each of which are "sistered" with 2-4 state legislative candidates for support each year. In total, Sister District has endorsed 57 races in 11 strategic states, raising over $1.8m in grassroots donations directly for candidates, as well as reaching out to over 2m voters via phone calls, doors, texts, and postcards. In 2020, Sister District is focused on races where it is our last chance to elect a Democrat who will help to redraw district lines in 2021. At Sister District, Lala has successfully led the expansion of the organization's national volunteer infrastructure, as well as the development of strategic partnerships with national and local organizations. Prior to Sister District, she clerked for federal judges in the Northern District of California and the District of Massachusetts, and served as an associate in the environment and energy group at the law firm Morrison & Foerster. Lala is a graduate of Barnard College of Columbia University and U.C. Berkeley, School of Law.