Master Class: NGP VAN
Session Type(s): Training
Training Tag(s): Master Class
Starts: Saturday, Jul. 16 10:00 AM (Eastern)
Ends: Saturday, Jul. 16 11:15 AM (Eastern)
The Master Class program is focused on the specific tools that organizers use every day, and helping intermediate users become efficient, effective power users. Feel free to bring tool-specific questions to the session.
This Master Class focuses on harnessing the power our tools that make an organizer's workflow more efficient and help improve the quality of and access to data on our platforms. We'll review the latest techniques on everything from more efficient list creation, segmenting contact universes into Turf, as well as streamlined ways of quickly getting these universes into the hands of volunteers and activists (such as the indispensable Virtual Phone Bank, including Open VPB, which configures a call list to be publicly available within seconds) and our widely-used MiniVAN mobile canvassing app for iOS and Android devices. In addition, we focus on high level administration of our integrated phone services and social organizing tool.
Trainers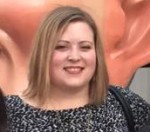 Amanda is the General Manager of Organizing at NGP VAN. Previously, she spent five years in the Product department, working with national and international clients to improve and develop new features that help campaigns and organizations maximize NGP VAN's organizing tools to win in the field. Amanda believes strongly in marrying new technology with traditional organizing best practices to achieve efficient, grassroots-driven field campaigns. She has also spent more than a decade working in field and get out the vote (GOTV) operations on local, state, and national campaigns. Most recently she served as the Statewide GOTV Director for both Senator Elizabeth Warren and Senator Ed Markey in her home state of Massachusetts.
Other sessions: The Future of Collaborative Data: How We'll Continue Beating Republicans [Voter Pick]
Chelsea Peterson is a Senior Account Executive at NGP VAN. Before joining NGP VAN Chelsea managed campaigns and programs at federal, state and locals levels. During the 2010 cycle, she served as Midwest Regional Field Director for the DCCC, overseeing field operations in 13 states. Prior to 2010, Chelsea worked on then Senator Hillary Clinton's presidential campaign, as well as Senate and Congressional campaigns in Nevada and her home state of South Dakota.
As a longtime campaigner and self-described data nerd, Chelsea is proud to have joined the NGP VAN family and to be able to focus on her long time passion of helping progressive candidates run data driven campaigns and electing more women to public office.
Other sessions: Your 2016 Tool Kit: How Technology Is Transforming the Way We Run (and Win!) Down Ballot Races