#AskaSista: Black Women Muse on Politics, Policy, Pop Culture and Scholarship
Session Type(s): Panel
Starts: Saturday, Jul. 16 4:00 PM (Eastern)
Ends: Saturday, Jul. 16 5:15 PM (Eastern)
Ella Baker's practice of "participatory democracy" has shaped grassroots organizing models from SNCC to #Occupy to #BlackLivesMatter. The #Ferguson police and the DOJ. Loretta Lynch is now Attorney General and Michelle Obama is still our First Lady. Marilyn Mosby is still prosecuting six police officers for #FreddieGray in Baltimore. Erica Garner endorsed Bernie Sanders while her mother and other "Mothers of the Movement" endorsed Hillary Clinton. Donna Edwards has run for the Senate. The Supreme Court has an opening. Will a Black woman finally be appointed? Meanwhile, Black women are still the largest democratic voting bloc, yet remain inadequately represented in online and offline campaigns. Now in its sixth year, you'd betta #AskaSista.
Panelists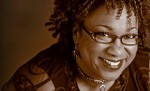 Lizz Brown is an Attorney and an award winning journalist. A former Special Public Defender, Lizz has always been a passionate defender of the rights of the oppressed and forgotten. As the host of an award-winning talk show, "The Wake Up Call" for 15 years, Lizz conducted thousands of interviews with News Makers and Policy Shapers.
During the Ferguson unrest, Lizz has been the go-to legal analyst for MSNBC, CNN and Al Jazeera. She has also been seen on NBC, ABC and Fox. After six Baltimore police were charged in connection to the killing of Freddie Gray, CNN sought Lizz out to debate attorney Alan Dershowitz over the role of Prosecutor, Marilyn Mosby. She is also a frequent political analyst on Huff Post Live.
Lizz believes that women and people of color must lean into and speak with a "disruptive voice" as it is that voice that brings change.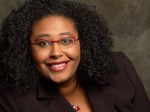 Affectionately known as "Dr. Goddess," Kimberly C. Ellis, Ph.D. is a Scholar of American and Africana Studies, an Artist, Activist and Entrepreneur. An international thought leader on culture, gender and social technology, she a published author, speaker and producer with many successful campaigns. Dr. Goddess is a staple presenter at Netroots Nation, PDF and SXSW and her writings and appearances can be found across the internet, from Alternet, Ebony and BlackEnterprise, to HuffPostLive, Al Jazeera America and radio programs on NPR, BBC_WHYS, Voices of Russia, MomsRising and Sirius XM. She is also in the WMC's "SheSource" Directory. Dr. Goddess is the Digital Director of the National Black Theatre Festival, co-founder of #AskaSista, founder of the civic tech project, #BlackPoliticsMatter, author of the upcoming book, "The Bombastic Brilliance of Black Twitter," and the producer of "You're Beautiful to Me," a feature documentary film about the journey with her Mother's dementia.
Other sessions: Expanding the Media Narrative around Paid Family and Medical Leave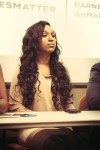 Elle Hearns is a organizer,speaker,strategist,and writer. Elle's voice as a community organizer and speaker were formed from her upbringing in Columbus, Ohio as a youth organizer. Ms. Elle is a co-founding member of the Black Lives Matter network an organization formed with multiple local chapters as a political project in the wake of the murder of Trayvon Martin in order to explicitly combat implicit bias and anti-black racism and to protect and affirm the beauty and dignity of all Black lives. In her role before stepping down she was formerly a strategic partner
​to​ BLM co-founders Patrisse Cullors, and Opal Tometi and to local chapters of the organization as the former interim Organizing Director advocating for Collaborative Solidarity across the network and Black Liberation movement. Elle has been honored with the Young Women's Achievement Award for Advocacy and Organizing by the Women's Information Network, the Black Feminist Human Rights Defender award by Black Women's Blueprint,and ​was named a Woke 100 honoree by Essence Magazine.
Ms. Elle currently is the Executive Director of The Marsha P. Johnson Institute an organization founded in 2015 that works to create a crucial entry point for Black transgender women to advocate for an end to violence against all trans people through advocacy, transformative organizing, restoration, civil disobedience and direct action. The organization is credited for organizing the first ever National Day of Action for Black Trans Women in response to the murders of Amber Monroe, Kandis Capri, and Elisha Walker and held organized events in multiple cities including New York City,Chicago, and Washington DC.
As a speaker Elle has delivered keynotes and talks at Harvard University, the Schomburg Center for Research in Black Culture,The Public Theatre,and for The National Lawyer's Guild,Columbia University, Stanford University and NYU.
Prior to founding The Marsha P. Johnson Institute Ms. Elle worked for LGBT organization GetEQUAL an organization that she shifted from an equality framework to one that was centered more on the liberation of LGBTQ people. During her time there she successfully led many campaigns including More Than Marriage a digital campaign detailing why LGBTQIA people needed more than marriage equality to be "free", Year Without Tamir a campaign honoring the life of Tamir Rice a 12 year old who was murdered by the Cleveland Police Department in which the campaign demanded and advocated for a new prosecutor for the case and in Cuyahoga County, and the firing of the officers and all responsible for his murder. Elle operates politically from the perspectives of black nationalism,humanist theory, and black trans theory and practice. She credits Malcolm X, Marcus Garvey, and Marsha P. Johnson as her teachers. Their words along with her life experiences are what she credits for politicising her.
Elle's writings have been published by The CUNY Law Review and Ebony magazine. Her
​ ​work has also been chronicled and featured by Time, CNN, MTV, The New York Times, Alternet, Democracy Now, The Daily Dot, Fusion, Essence Magazine,The Root, Alternet, Telesur TV and The Washington Post.
Other sessions: Economic Violence and the Black Jobs Crisis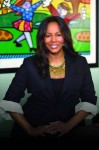 This Orlando-based lawyer and former U.S. Navy Intelligence Officer, has had several highly publicized cases over the span of her career. She has also appeared as a legal analyst on a plethora of local and national news networks and shows including: CNN, MSNBC, FOX, Nancy Grace, Jane-Velez Mitchell, Dr. Drew, Good Morning America, and the Today Show. Attorney Jackson's personal philosophy is "EQUAL COURT ACCESS, EQUAL PROTECTION OF RIGHTS, AND EQUAL JUSTICE FOR ALL."
An example of this philosophy in action can be seen in the outcome of one of Attorney Jackson's more recent cases involving a homeless man who was senselessly targeted and beaten by the young adult son of a leading citizen in a small Florida town. A settlement was reached in that case which required the attacker to not only pay for the homeless man's medical bills, but to also donate money to various drug rehabilitation and homeless help organizations. Moreover, the homeless man received a confidential monetary settlement to help him get off the streets.
In 2008, Attorney Jackson represented a little girl who lost her mother and baby brother in a freakish accident when a company-owned airplane crashed into their home. Ultimately, the case settled for a confidential eight-figure sum and earned Attorney Jackson an invitation to join the Multi-Million Dollar Advocates Forum. Although that case was a big monetary case, Attorney Jackson believes the most important case of her career came in February 2012, when Attorney Benjamin Crump asked her to become local counsel for the family of Trayvon Martin. 17-year old Trayvon Martin was shot and killed by 28-year old Neighborhood Watch Captain George Zimmerman while walking home. The case sparked a nationwide debate on racial profiling and gun laws. Since that time, Attorney Jackson and Attorney Crump have worked on many civil rights cases together around the nation, most recently, Tolan v. Cotton, a case out of Houston, Texas, that went to the U.S. Supreme Court.
Attorney Jackson is the managing partner of the Women's Trial Group and the founder of AskAttorneyJackson.com and LegalAdvicePerMinute.com. The Women's Trial Group is a personal injury law firm representing women and families who have been harmed or killed by the negligence of others. AskAttorneyJackson.com and LegalAdvicePerMinute.com are low-cost telecommunication services for lay people and lawyers.
Attorney Jackson received her undergraduate degree in History from Hampton University and her Juris Doctor from the University of Florida. She is admitted to practice law in all Florida State Courts, the Middle District of Florida, and the United States Court of Appeals for the Eleventh Circuit. In 2012 and 2013, Super Lawyer Magazine honored her with the designation of "Rising Star".
In addition to her law practice, Attorney Jackson has been an Adjunct Professor of Law at FAMU School of Law where she has taught Trial Practice and Negotiations. She is also a member of the Florida Bar Association, the Association of Florida Trial Lawyers, the National Bar Association, and Alpha Kappa Alpha Sorority, Inc. Attorney Jackson has received numerous awards from local, state, and national organizations for her social activism and community service. She resides in Orlando and has a son (Kevin) who is an alumni of the United States Naval Academy and is now a law student at the University of Florida.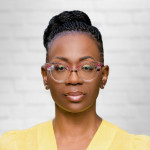 The Honorable Nina Turner is a "hell-raising humanitarian" and a tireless advocate for progressive values and social justice. She made history in 2005 and 2008 as the first woman and African American woman, respectively, to represent those districts. She promoted progressive policies through her work with the Ohio Democratic Party, Bernie Sanders' 2016 and 2020 presidential campaigns, and during her time at Our Revolution. Turner is a former assistant professor of history at Cuyahoga Community College and host of the "Hello Somebody" podcast. Turner is currently a senior fellow at the New School Institute on Race, Power and Political Economy.