Action into Being: Growing as an Ally
Session Type(s): Training
Training Tag(s): Grassroots Organizing/Campaigns
Starts: Saturday, Jul. 16 4:00 PM (Eastern)
Ends: Saturday, Jul. 16 5:15 PM (Eastern)
The struggle for liberation is beautiful—and hard. We may intellectually understand or spiritually believe that, as Desmond Tutu says, "My humanity is caught up, is inextricably bound up, in yours." But when it comes to joining hands and locking elbows, there are groups of people we often don't include. We might share/retweet or have an intellectual conversation about racism, but we don't always show up when it really counts. What does it mean to value those with whom we don't share identity? Join us as we examine the places in which our attachment to privilege and power is getting in the way of creating the kind of world we want.
This training is intended for white people but may be useful for anyone working to address the ways in which oppression is perpetuated (sexism, transphobia, abelism, ageism, etc.). We expect participants will have some understanding of what white supremacy in a progressive setting looks like.
Trainers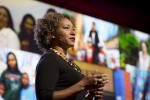 Mia Birdsong has spent more than 20 years fighting for the self-determination and pointing out the brilliant adaptations of everyday people. In her current role as Co-Director of Family Story, Mia is updating this nation's outdated picture of the American family (hint: rarely 2.5 kids and two heterosexual parents living behind a white picket fence). Mia, whose 2015 TED talk–titled, "The Story We Tell About Poverty Isn't True"–has been viewed over 1.2 million times already, is an Ascend Fellow of The Aspen Institute and a New America California Fellow.
Mia is a modern Renaissance woman. She has spent time organizing to abolish prisons, teaching teenagers about sex and drugs, interviewing literary luminaries like Edwidge Danticat, David Foster Wallace, and John Irving, and attending births as a midwifery apprentice. These are some of the many reasons that Mia was recognized as one of Colorlines' "15 Remarkable Women of Color Who Rocked 2015."
Other sessions: Expanding the Media Narrative around Paid Family and Medical Leave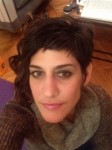 I'm a co-founder and the Executive Director of the Kairos Fellowship-a program building the next generation of campaigning leaders and technologists of color. I've been organizing for longer than I can remember. I came up in California working to end gender based violence against migrant farmworkers and their children before moving to NYC where I was a union organizer for 5 years. In 2010 I made the leap from grassroots organizing to online campaigning and worked at MoveOn. After leaving MoveOn, I went to Presente where I was Managing Director leading strategic campaigns. After years in digital campaigning and witnessing more and more black and brown leaders get pushed out of digital organizing because of structural racism, I co-founded the Kairos Fellowship. I am lucky to build with and support the incredible talent that makes up the Kairos network.
Other sessions: The Progressive Movement Has a Sexual Assault and Harassment Problem. Now What?