Training for Trainers: Principles of Adult Learning
Session Type(s): Training
Starts: Friday, Jul. 17 12:00 PM (Eastern)
Ends: Friday, Jul. 17 1:15 PM (Eastern)
Think of every training you've ever attended. What's the difference between the ones that make you yawn and the ones that make you feel motivated and confident about applying new knowledge and skills to your work? Join this session to learn the science behind effective trainings, so you can apply it the next time you need to teach anything to anyone.
Trainers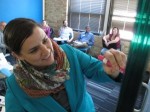 Born and raised in rural Arizona, Ashley is the National Training Director with Organizing for Action, a grassroots organization dedicated to promoting a progressive national agenda. Prior to joining the OFA team in January 2013, Ashley spent four years serving President Obama's grassroots team in a number of capacities: as an Organizing Fellow and Field Organizer on his 2008 campaign, as a Regional Field Director focused on passing health care reform in 2009, as a Field Director focused on reelecting his allies in the 2010 midterm election, and as Florida's Training Director for his reelection campaign in 2011 and 2012.
Ashley lives in Chicago where she also teaches a course on Issue Advocacy and Community Organizing at the University of Chicago Harris School of Public Policy. She enjoys biking, hiking, spending time with family and friends, and getting outside with her dog, Steve.
Victoria Zyp has trained and led organizers and volunteers on electoral, ballot, and issue advocacy campaigns on municipal, state, and national initiatives. In 2014 she managed the statewide field program for Battleground Texas in coordination with the Wendy Davis for Governor campaign. She started organizing on the 2008 Obama Presidential campaign in her hometown of Cincinnati, and continued engaging OFA volunteers in 2009 in support of healthcare reform, and 2010 in support of statewide Democratic candidates. After spending 2011 working on the statewide ballot measure to restore collective bargaining rights to Ohio's public employees, she returned to the President's re-election campaign in 2012 as Ohio training director. In 2013 she served as Leadership Development Director at Organizing for Action, where she built curriculum for issue organizing and managed the national fellows program. She is currently a Program Director for Airbnb's community outreach team.