Networking with Indigenous Communities
Session Type(s): Panel
Starts: Saturday, Jul. 18 6:00 PM (Eastern)
Ends: Saturday, Jul. 18 7:15 PM (Eastern)
The Southwest is rich with traditions, cultures and nationalities. Indigenous families and communities are impacted by issues like natural resource extraction and immigration' issues that impact the health of the land, wildlife, vegetation and people. Too often, our activism pits us against our own tribal, state and country governing bodies while respective governmental agencies stay at arm's length. Native Nations have government-to-government agreements and will not act on sensitive issues, often leaving the people to rely on neighbors for assistance. What can be done to ensure healthy and sustainable indigenous communities? How can progressives who work on similar issues create coalitions with Native American organizers?
Moderator
Panelists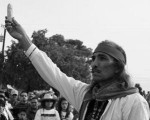 Judge of the First Nations International Court of Justice, Tupac is a founding member of the community based Indigenous Peoples organization TONATIERRA in Phoenix, Arizona. A long time researcher and activist in the field of indigenous international law, he has served as representative to the United Nations Human Rights Commission, the UN Working Group on Indigenous Populations in Geneva, Switzerland and the UN Permanent Forum on Indigenous Issues in New York.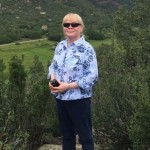 Carol Davis is Diné (Navajo) from the southwest community of Dilkon (Navajo Nation). She is Kinyaa'áanii (Towering House clan). Carol has worked directly with a southwestern Navajo Nation community, as their public administrator for over sixteen years. During that time, she assisted in social and environmental justice efforts for her community, and expanded advocacy to surrounding Navajo Nation communities–water rights, illegal trash dumping sites, recycling efforts, water conservation—while emphasizing government accountability in the administration of public resources; social issues include developing language and cultural preservation programs and projects, which bridge multiple generations by creating mentoring opportunities. Carol is currently completing her final coursework at Northern Arizona University toward a B.S. in Public Management and Accounting.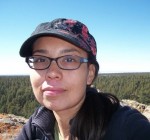 Robyn Jackson is Diné (Navajo) from the Chuska Mountains of the Navajo reservation. She is Tó'áhaní (Near the Water Clan). Robyn is a community advocate who has been involved in Navajo social and environmental justice and cultural survival issues since she was a child. Robyn has worked as a researcher on Diné Food Sovereignty, developing practical and sustainable applications to rebuild the Diné food system as well as advocating for the restoration of traditional foods and agricultural practice. Robyn has a B.A. in Sociology from Fort Lewis College.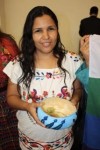 Eve Reyes-Aguirre is an Indigenous, grassroots, community organizer, community advocate, wife and mother of four, born and raised in East Los Angeles. Eve moved to Phoenix 17 years ago, where she continues community organizing and advocacy work at Tonatierra Nahuacalli An Embassy of Indigenous Peoples. As an Indigenous woman, Eve also represents the women in her Calpolli (traditional community) annually at the United Nations Permanent Forum on Indigenous Issues as well as at the Global Indigenous Women's Caucus. Eve has served as the Co chair for the Global Indigenous Women's Caucus and currently serves as the Special Rapporteur. At the International level, Eve works alongside other Indigenous Women to bring awareness to the political, social and economic challenges affecting Indigenous Women and Peoples globally. Eve also organizes at the grassroots level regionally and locally to strengthen traditional identity, equality and well-being of Indigenous Women and all Indigenous Peoples.