Network Depth: How the Love Factor is Creating Change
Session Type(s): Panel
Starts: Friday, Jul. 18 3:00 PM (Eastern)
Ends: Friday, Jul. 18 4:15 PM (Eastern)
From the leaders taking action against Walmart to domestic workers to organizations emerging in the shared economy, the love factor—people taking care of each other—is a factor in changing systems. Join us for a discussion of why love is important for scaling large base building efforts. We'll look at best practices in places where communities of leaders are caring for each other and take a look at what happens when people don't get along.
Moderator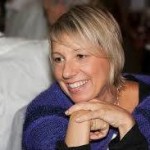 Marianne is a founder of The Engage Network (www.engagenet.org) which is part of the Movement Strategy Center network (www.movementstrategy.org). Engage incubates, researches, and advises on building decentralized, people-led networks. The practice marries the best online organizing strategies with a unique, small circle approach to build field that emphasizes building a deep network of love and trust.
Current and past partnerships include: the Organization United for Respect at Walmart (www.forrespect.org), Greenpeace International (http://www.mobilisationlab.org), Sierra Club (www.sierraclub.org) Minnesotans for a Fair Economy/SEIU International (www.mnfaireconomy.org), and co-designing the largest yoga and social change network, Off The Mat Into the World (www.offthematintotheworld.org.)
Prior to Engage, Manilov has spent 25 years in organizing. She has co-founded several c3 and c4 efforts including The Center for Commercial-Free Public Education, which brought the corporate takeover of public schools onto the national agenda and created grassroots networks in 23 states.
Marianne writes on social change and been quoted extensively in the media including: The Huffington Post, The Washington Post, The New York Times, and The Nation. She has appeared on ABC, CBS, NBC, CNN, and Good Morning America, and on the BBC. Her own inner practices include dance and meditation.
Panelists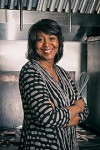 Devita Davison is the Community Kitchen Director for Detroit Kitchen Connect, a network of shared-use, commercial kitchen spaces that provides an array of industry-specific services to burgeoning food entrepreneurs.
Devita combines her passion for culinary arts with activism and entrepreneurship. Devita has worked with the Brooklyn Food Coalition, facilitated workshops for the WKKF Foundation, spoke at the Just Food Conference and the BALLE conference. She has a BS in Social Science from Michigan State University.
Devita writes on local food systems and has been quoted in the media including: Civil Eats, Policy Link, The Detroit News and Urban Innovation Exchange.
Alicia Garza founded the Black Futures Lab to make Black communities powerful in politics. In 2018, the Black Futures Lab conducted the Black Census Project—the largest survey of Black communities in over 150 years. Alicia believes that Black communities deserve what all communities deserve—to be powerful in every aspect of their lives.
An innovator, strategist, organizer, and cheeseburger enthusiast, she is the co-creator of #BlackLivesMatter and the Black Lives Matter Global Network, an international organizing project to end state violence and oppression against Black people. The Black Lives Matter Global Network now has 40 chapters in 4 countries.
Alicia serves as the Strategy & Partnerships Director for the National Domestic Workers Alliance, the nation's premier voice for millions of domestic workers in the United States. She is also the co-founder of Supermajority, a new home for women's activism. She shares her thoughts on politics and pop culture on her podcast, Lady Don't Take No. Garza was born and raised in the Bay Area, lives and loves in Oakland, California, and she warns you—hashtags don't start movements. People do.
Other sessions: Domestic Workers: Leaders for a New Economy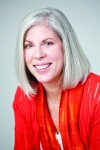 Carla Goldstein, JD, is Omega Institute's chief external affairs officer and co-founder of the Omega Women's Leadership Center. An attorney with 25 years of experience in public interest advocacy, she has contributed to more than 100 city, state, and federal laws, and has worked extensively in city and state government on issues related to women's rights, poverty, public health, and social justice. As a pioneer in spiritual activism, she advocates for a holistic approach to social change. She is a commentator for WAMC's show, 51%, writes a column and serves on the advisory board for Feminist.com, and serves as an Advisor to Women Without Borders.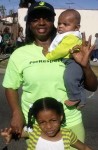 Girshriela Green is an online to field organizer with the Organization United for Respect at Walmart (OurWalmart) and a founder of "Respect the Bump," a network of pregnant moms and people who have had issues with pregnancy who work at Walmart who are demanding better treatment. A single parent and a mother of 7, Girshriela is organizing to create a work environment at Walmart where pregnant workers can receive basic accommodations like more restroom breaks or water at the register and don't have to be afraid to tell their employer when they're expecting. Girshriela was one of the first 100 Walmart workers around the U.S. to stand up and organize as part of the OURWalmart effort. She is a leader who builds other leaders, starting with her old store in Los Angeles and also including organizing in Texas and Florida and Minneapolis. She is a founder of Walmart moms and she supported leaders who founded a network of LGBT Walmart employees.
Other sessions: Solidarity, The Original Way to 'Lean In': How Women Workers are Owning their Power for Paid Sick and Family Leave