Military Sexual Trauma: The Women's War
Session Type(s): Panel
Training Tag(s): Women, Foreign Policy & National Security
Starts: Friday, Jun. 8 3:00 PM (Eastern)
Ends: Friday, Jun. 8 4:15 PM (Eastern)
The Department of Veterans Affairs has released data estimating that one in three women has been sexually assaulted and/or raped while on active service, double the rate for civilians, according to the DoJ. Rape is notoriously unreported, particularly in the hyper-masculine environment of the military. Women troops who do seek justice find themselves quickly ostracized, their psychological wounds left untended, their attackers not charged. They are expected to carry on and often face their rapists on a daily basis. This panel is designed to explore the issue of Military Sexual Trauma or MST.

Military Sexual Trauma: The Women's War
Miss this panel? No problem! Here's what happened.
Storified by Netroots Nation · Fri, Jun 08 2012 17:14:40
Sexual trauma in the military is a serious problem. One that is under-reported and under-prosecuted.
8 percent vs 41 percent prosecution of sexual assault military vs civilian #nn12 #fem2Suzanne Turner
Military women told reporting sexual assault was a deal breaker #standwmilitarywomen #NN12IsaRo
Why? There's a lack of understanding about trauma.
need a greater understanding of what trauma does to someone. they can't self-regulate. need to protect them. #nn12 military sexual assaultUna Spenser
Q: why doesn't military see PR problem with getting military volunteers? A: info isn't out there, so why care? #nn12 military sexual assaultUna Spenser
And the decisions regarding prosecution are being made by folks in their 20s.
decisions for what goes to court marshall is made by company commanders. They are in their mid-20s. #nn12 military sexual traumaUna Spenser
But lawsuits can help.
sometimes lawsuits, even if not successful in court, succeed in educating the public. #nn12 military sexual traumaUna Spenser
The women working on sexual assault in the military are doing amazing work. Bless them. #nn12Jessica Pieklo
Moderator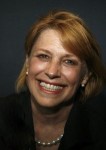 Joan Brooker-Marks, MA, Ed.M, was a television writer in Los Angeles, working on such shows as 'Designing Woman', 'McGyver', and 'Full House'. She currently teaches writing and documentary filmmaking at the School of Visual Arts. Joan is the director of two award winning short documentaries, 'We Got Us' and 'The Loud Ladies of South Fork', and the feature documentary, 'Larry Flynt: The Right to be Left Alone'. Her recent documentary, 'The Silent Truth', profiles the tragic death of Private LaVena Johnson and will be released this summer. The film received numerous grants, including NYSCA and the Visual Arts Foundation. Joan's films have shown in festivals world-wide and have been distributed domestically and internationally, and broadcast by both IFC and PBS. She has been a member of SAG, WGA, AEA, and NYWIFT.
Panelists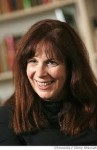 Elizabeth Stinson, LMFT, conducts clinical trainings on the Treatment of Military Sexual Trauma. A well known Marriage and Family Therapist and trauma treatment therapist, Elizabeth provides MST trainings and counseling for clinicians throughout the United States. Elizabeth practices in Portland, OR, and is licensed in both, Oregon and California. Her extensive clinical work with trauma and sexual assault survivors includes returning veterans and military members who have experienced military sexual trauma, PTSD and TBI: Traumatic Brain Injury. Elizabeth is a contributor to the award winning documentary on military sexual trauma, "The Invisible War" and an employee of Multnomah County. Elizabeth is often asked to consult with JAG (US Judge Advocate General), civilian attorneys and other clinicians, on MST, PTSD and TBI. In addition, Elizabeth is clinical advisor to BAMLP, the Bay Area Military Law Panel and a member of the Portland VA think-tank on military sexual trauma.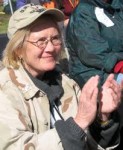 (Ret.) Colonel Ann Wright, MA, LL.D, spent thirteen years active duty in the U.S. Army and sixteen additional years in the Army Reserves, retiring as a Colonel. She is airborne-qualified. In 1987, Colonel Wright joined the Foreign Service and served as U.S. Deputy Ambassador in Sierra Leone, Micronesia, Afghanistan, and Mongolia. She was on the first State Department team to go to Afghanistan and helped reopen the Embassy there in December 2001. Her other overseas assignments include Somalia, Kyrgyzstan, Grenada, Micronesia, and Nicaragua. On March 19, 2003, the eve of the U.S. invasion of Iraq, Ann Wright cabled a letter of resignation to Secretary of State Colin Powell, stating that without the authorization of the UN Security Council, the invasion would be a violation of international law. Since then, she has been writing and speaking out for peace and MST.