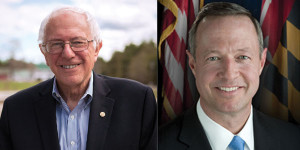 At Netroots Nation next month, you'll hear from Democratic presidential candidates Martin O'Malley and Bernie Sanders in a special Town Hall event.
Former Maryland Gov. O'Malley and Sen. Sanders of Vermont will participate in the Town Hall on Saturday, July 18, at 10:30 a.m. To date, the Clinton campaign has declined our invitation to participate. We are hopeful that as the date approaches the campaign will reconsider addressing this core progressive community who are most eager to hear from her. The Town Hall will include a moderated audience Q&A.
Click here to get your ticket to see these candidates speak at Netroots Nation 2015.
In addition to O'Malley and Sanders, other speakers and special guests include Sen. Elizabeth Warren, Reps. Rosa DeLauro, Donna Edwards, Keith Ellison, Ruben Gallego, Raul Grijalva, Hank Johnson, Robin Kelly, Mark Takano, Senior Circuit Judge Mary Schroeder and many more. And we'll be releasing more keynote speakers in the coming days.
I hope you're planning to join us for the Town Hall and other exciting events at Netroots Nation next month.