I hope you were able to tune in to our live stream of Netroots Nation Day 1. If you aren't able to watch in real time, you can still catch some of the action from Phoenix on our website and Facebook page throughout the weekend.
HIGHLIGHTS FROM THURSDAY
The first day of Netroots Nation 2015 has come to a close, and our 10th year is off to a great start! For a recap of some of the top moments from yesterday's action, check out this video produced by Blue Nation Review.
Here are a few more highlights from Day 1:
• Shannon Rivers of the Akimel O'otham Nation (at right) joined us for an opening blessing.
• From Twitter: "Yall. My heart is so full listening and feeling all the amazing efforts for justice here at #nn15." —@mcbyrne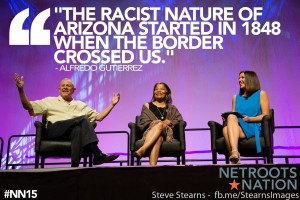 • Our opening keynote featured activists from across Arizona who spoke of some of the most unjust practices in our immigration system—racial profiling, police brutality, human rights issues in the detention system and more. Ferguson activist Ashley Yates and Rep. Donna Edwards also spoke. Click here to watch the archived stream and check out our Storify wrap-up.
FOLLOW-AT-HOME GUIDE FOR FRIDAY
The following keynotes and panels will be streaming live today, courtesy of Blue Nation Review. All times are Pacific time. Players are available here. Full descriptions of each session are posted here.
9 to 10:15 a.m.
Building Progressive Political Power (Keynotes and Breakout Room A Player)
Unions as the Answer to the Defining Issue of our Time (Breakout Room B Player)
10:30 to 11:45 a.m.
Morning Keynote: Senator Elizabeth Warren (Keynotes and Breakout Room A Player)
1:45 to 3 p.m.
#AskaSista: Black Women Muse on Politics and Pop Culture (Keynotes and Breakout Room A Player)
Education in the 2016 Presidential Campaign (Breakout Room B Player)
4:30 to 5:45 p.m.
Mass Employment, Not Mass Incarceration (Keynotes and Breakout Room A Player)
Plus, catch additional programming, courtesy of This Week In Blackness, throughout the convention.
JOIN THE CONVERSATION ON TWITTER
To follow the action on Twitter, follow @Netroots_Nation and search the #nn15 hashtag.
Thanks for following from home!