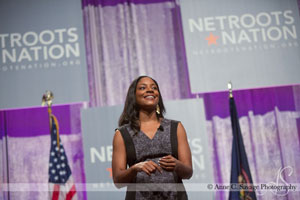 One of the best parts about Netroots Nation is hearing the unique experiences and personal stories of fellow organizers, activists and thought leaders in the movement.
That's why we're once again closing out the conference this year with Ignite, a full plenary session focusing on those stories. The keynote will feature short presentations that are thought-provoking, inspiring, engaging and sometimes funny.
Are you planning to join us in Phoenix? If you haven't yet registered, get your ticket now.
Using the Ignite format, each speaker gets 5 minutes to talk while 20 slides advance automatically every 15 seconds on the screen.
Over the course of the program you'll hear from Lori Adelman, Jenifer Fernandez Ancona, Dagoberto Bailón, Beth Becker, Heather Booth, Glynda C. Carr, Gregory Cendana, Jess X. Chen, Austen Levihn-Coon, Benjamin O'Keefe, Robin Reineke, Justin Robinson, Palak Shah, Wagatwe Wanjuki, Elon James White, Teresa C. Younger, and Deanna Zandt.
This is going to be a great program. I can't wait to see it–and to see you there.