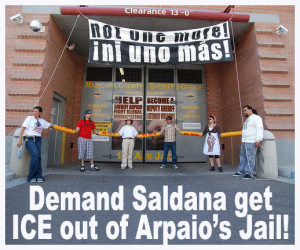 By now you probably know that Sheriff Joe Arpaio has a legacy of abusing power and terrorizing immigrant families in Maricopa County.
Yet even though the Department of Justice is suing Arpaio and he faces civil and criminal contempt charges for violating a court order to stop racial profiling, Immigration and Customs Enforcement Director Sarah Saldaña maintains federal deportation agents at Maricopa County jails, further enabling these racist policies.
Those of us in Phoenix for Netroots Nation will march and rally Friday in front of the 4th Avenue Jail. But we're asking all of you—whether you're in Phoenix or not—to join us now by demanding that Saldaña immediately remove her federal deportation agents from Arpaio's jail—and put an end to Arpaio's abusive policies.
There are three ways you can take action to get ICE out of the 4th Ave Jail:
1. Click to sign and share the petition from Puente Arizona.
2. Call 202-732-3000 and ask for ICE Director Sarah Saldaña. Urge her to immediately remove ICE agents from Maricopa County Jails and to stop supporting Arpaio's racism.
3. Tweet at @ICEgov to demand #ICEOutof4thAve. Click to Tweet now.
With Saldaña's hiring, ICE said they were changing—putting an end to the unconstitutional practices that Arpaio has institutionalized. But in Arizona, ICE enables Arpaio's racism daily.
People who have directly experienced Arpaio's neighborhood sweeps, workplace raids and abuse in custody have neutralized certain parts of his legacy and built the momentum that could lead to his imminent removal from office.
Now, it will take us all coming together to ensure that when he goes, all the racism and terror he has institutionalized go with him.
Click to sign the petition now and get ICE out of the 4th Ave Jail.
Thanks for standing with our allies in Arizona.
P.S. If you're in Phoenix for Netroots Nation, join us Friday at noon to rally outside of the 4th Ave Jail for an #ArpaioFreeAZ. We'll leave the Convention Center directly after the morning keynote with Sen. Warren.