Worker Power: Online to Offline Organizing & Emerging Unions
Session Type(s): Panel, Streamed Session
Starts: Thursday, Jul. 13 4:00 PM (Central)
Ends: Thursday, Jul. 13 5:00 PM (Central)
Room: Salon A-1
The most exciting labor organizing stories this year have come out of emerging organizing efforts like Trader Joe's United and Advocates for Minor Leaguers. Worker organizers are taking on some of the largest corporations in the country and winning historic victories for working people. What strategies have led to success in these emerging organizing campaigns? What do these efforts have in common, and how have they taken advantage of new and existing technologies to build worker power?
This session is sponsored by Action Network.
Moderator
Maximillian Alvarez is the Editor-in-Chief of The Real News Network in Baltimore and the host of Working People, "a podcast about the lives, jobs, dreams, and struggles of the working class today." He's also the author of The Work of Living, a book of interviews with workers conducted after year one of COVID, and he hosts "The Art of Class War" segment on Breaking Points.
Other sessions: How Labor Can Help Build a Progressive Media for the 21st Century
Panelists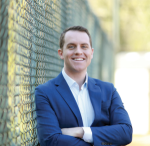 Harry Marino is a former minor league ballplayer who played a crucial role in successfully organizing over 5,000 minor league players across 150 teams into a union and then joining the Major League Players Association. He has dedicated his career to advocating for the rights of athletes and is currently serving as an Assistant General Counsel at the Major League Baseball Players Association (MLBPA).
With prior experience leading an advocacy group for minor league ballplayers, Marino possesses a deep understanding of the unique challenges faced by these athletes. His passion for the sport and expertise positioned him perfectly for his role in leading the organizing efforts and using digital technology to achieve those efforts.
Harry led the effort with the MLBPA establishing the historic first collective bargaining agreement for the minor leaguers. Most recently the MLBPA has joined the AFL-CIO, the largest federation of labor organizations in the country.
Harry Marino's invaluable contributions and unwavering commitment within the MLBPA continue to empower and protect the rights of athletes. His expertise in labor law and firsthand experience in the world of baseball make him an instrumental advocate in shaping a fair and equitable landscape for players at all levels of the game.
Other sessions: Using Time-tested Tactics to Evaluate and Boost Your Organizing