Women Candidates: Navigating the Threat of Dis/misinformation Campaigns
Session Type(s): Panel, Streamed Session
Starts: Thursday, Jul. 13 4:00 PM (Central)
Ends: Thursday, Jul. 13 5:00 PM (Central)
Room: Continental B
Misinformation and disinformation is rampant online, and this has a disproportionate impact on the experience of women, particularly women of color, who run for elected office. At a minimum, disinformation campaigns impact voters' opinions. They can also have a chilling effect on women even considering running and lead to physical threats at times. Consider the experiences of Vice President Kamala Harris and Gov. Gretchen Whitmer in dealing with intentional disinformation campaigns. This panel will include former candidates, activists and experts to discuss their experiences with misinformation and disinformation and provide tools and resources to help combat it.
Moderator
Panelists
Jiore Craig is a Vice President and Director of the Digital Practice at Democratic consulting firm GQR. She specializes in international and US election work, differentiating between online sentiment and wider general public opinion, disinformation detection and rapid response, and translating conventional campaign strategies into social media strategy for general, regional, and local elections around the world. She has extensive experience in strategies developed in Eastern and Western Europe, Latin America, Asia, Africa, and the Caribbean. Since 2016, Jiore has worked with US campaigns, US elected officials, academic institutions, journalists and progressive advocacy groups on how to understand the role of disinformation and social media in an electoral context. She has been cited in The Washington Post, New York Magazine, The L.A. Times, and The New Yorker.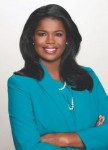 Kim Foxx is an accomplished leader, prosecutor, and advocate for children and families in Cook County. She is running to become Cook County State's Attorney to continue that work, and to restore public faith in a criminal justice system that has failed so many families.
Born to a teenage mother who struggled to make ends meet, and raised on Chicago's Near North Side by her mother and grandmother, Kim's life experience has given her a deep understanding of the impact of crime, violence and poverty on our communities.
She began her career as a guardian ad litem with the Cook County Public Guardian's Office and then became an Assistant State's Attorney for Cook County, where she served for 12 years.
Kim served as Chief of Staff for Cook County Board President Toni Preckwinkle where she was the lead architect of the criminal justice reform agenda.