Winning on Public Safety: How Progressives Can Combat GOP Narratives on Crime
Session Type(s): Panel, Streamed Session
Starts: Saturday, Jul. 15 2:30 PM (Central)
Ends: Saturday, Jul. 15 3:30 PM (Central)
Room: Continental A
Republicans attempted to make crime the centerpiece of the midterms, spending millions on ads that smeared Democratic candidates with race-baiting attacks. While the GOP underperformed, they will likely return with similar messaging in 2024—and these midterms showed us which strategies work and which ones don't. In this session, political and policy experts will describe how to construct a winning coalition for progressive public safety reform. We'll outline actionable policy proposals and communications tactics to help voters understand the need to reimagine public safety. We'll also provide strategies on actualizing policies to improve racial and economic justice in every aspect of our criminal justice system.
Moderator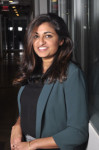 Roshni Nedungadi is a founding partner and chief research officer of HIT Strategies, the leading millennial and minority-owned public opinion research firm in Washington, D.C. Roshni has led expansive, multi-phase research projects exploring how people across the United States feel about gun control, mass incarceration, abortion, and other important issues on behalf of advocacy leaders such as Everytown for Gun Safety, NARAL, and Vera Institute for Justice. Roshni's research seeks to find nuance in how Americans, particularly BIPOC individuals and low-propensity voters, conceptualize these issues at a time where division and partisanship run rampant. Roshni's research on behalf of HIT Strategies ultimately is meant to lift up the voices of marginalized communities in the United States, one of the fastest-growing and oft-ignored voting blocks in American politics.
Panelists
Alicia Garza founded the Black Futures Lab to make Black communities powerful in politics. In 2018, the Black Futures Lab conducted the Black Census Project—the largest survey of Black communities in over 150 years. Alicia believes that Black communities deserve what all communities deserve—to be powerful in every aspect of their lives.
An innovator, strategist, organizer, and cheeseburger enthusiast, she is the co-creator of #BlackLivesMatter and the Black Lives Matter Global Network, an international organizing project to end state violence and oppression against Black people. The Black Lives Matter Global Network now has 40 chapters in 4 countries.
Alicia serves as the Strategy & Partnerships Director for the National Domestic Workers Alliance, the nation's premier voice for millions of domestic workers in the United States. She is also the co-founder of Supermajority, a new home for women's activism. She shares her thoughts on politics and pop culture on her podcast, Lady Don't Take No. Garza was born and raised in the Bay Area, lives and loves in Oakland, California, and she warns you—hashtags don't start movements. People do.