We Got NOW! The Black Women Bench
Session Type(s): Panel
Starts: Friday, Jul. 14 2:45 PM (Central)
Ends: Friday, Jul. 14 3:45 PM (Central)
Room: Salon A-5
Black women are a powerful electorate with the proven ability to decide elections. We now have the first Black woman Vice President, 26 Black women serving in the House and Black women mayors in seven of the nation's largest cities. Despite those accomplishments, Black women still lack representation in important chambers of power. Only 4.9% of the U.S. House are Black women and zero serve in the U.S. Senate. Our panel of dynamic Black women including current and former elected officials, operatives and pundits will talk about the cadre of Black women doing amazing things in every sector of American politics and how we can uplift them and support their growth. The Black women bench doesn't need to be built—it needs to be believed and bolstered.
Moderator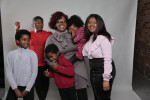 Delegate Angela Angel has spent the past 20 years as an attorney, advocate and organizer for those
forgotten and disenfranchised. As an elected official she took on her own Party to stand up for
victims or domestic violence and spoke out against sexual harassment happening in the Statehouse.
She's a single mom of 5 that that is dedicated to using her voice and platform to lift up and be part of
the solution for Black socioeconomic and political issues. She most recently served as the National Black Engagement Director for the Pete Buttigieg presidential campaign. She is the Founder of
Angel Consulting and Advocacy and is a Senior Advisor at BOWERS*
Panelists
D'Shawna Bernard has spent almost a decade shaping a career that is dedicated to progressive politics and partnerships. Her passion for public service has allowed her to work across a range of issues within the public and private sector, all of which have been rooted in equity, accessibility and justice. She has served in multiple capacities in organizations and on national campaigns where she has used her expertise to facilitate national political strategy and build coalitions across the United States and internationally. Born in Trinidad and Tobago she attributes her love for politics and people to her culturally diverse West Indian bringing.
She has worked for the Congressional Black Caucus Foundation, the Democratic National Convention Committee, Hillary for America, Abrams for Governor and served as a Special Advisor on Senator Elizabeth Warren's Political Team for her Senate re-election campaign in 2018. There, she led efforts to identify engagement, outreach and organizing opportunities with key elected officials, constituency leaders, community stakeholders and state parties on behalf of the Senator. She has also served as the National Director of Black Engagement for Senator Warren's 2020 US Presidential campaign.
She currently works at the interaction of tech and politics and serves as the Senior Director of Political Partners and Strategic at Hustle and leading texting platform helps to empower democratic and progressive, organizations and campaigns maximize their engagement through human connection.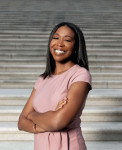 Tamia Booker is a veteran political strategist with nearly two decades of experience building dynamic coalitions and working with national leaders to drive meaningful change.
Tamia has served as Deputy Chief of Staff to Senator Cory Booker and National Political Director for his presidential run, Senior Advisor on President Biden's Inaugural Committee, National African American Outreach Director for Hillary Clinton, Executive Director of the College Democrats of America, and an appointee of President Barack Obama – serving as his Associate Director of External Affairs within his Department of Health and Human Services.
Across these roles, and now as a consultant to leaders and causes she believes in, Tamia has built a national reputation for organizing people and advancing tangible solutions in the world of politics, policy, government and philanthropy.
She's a recipient of the 2014 NAACP Unsung Hero Award and the National Action Network's 2018 Women Who Are Called to Action Award, alongside then-Senator Kamala Harris and Congresswoman Barbara Lee.
Tamia is a proud HBCU alum, a graduate of Florida Agricultural and Mechanical University (FAMU), and a Philadelphia area native. She is based in Washington, DC.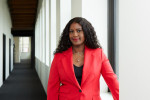 Stacy Davis Gates is President of the Chicago Teachers Union, Executive Vice President of the Illinois Federation of Teachers and Vice President of the American Federation of Teachers.
Before her election to the Office of President in 2022, Mrs. Davis Gates served four (4) years as Vice President of the Union. Prior to that, she served as the Union's Political and Legislative Director. In the fall of 2019, she helped lead a 15-day strike and negotiate a historic contract that provides for smaller class sizes, ensures a nurse and social worker in every Chicago public school, secures sanctuary protections for immigrant families, and supports students and families experiencing homelessness.
While at the CTU, Mrs. Davis Gates has been the architect of bold political and legislative campaigns for the schools and city that all Chicagoans deserve. She has raised millions of dollars to elect classroom teachers to all levels of local government, and challenge school privatizers and union busters. Mrs. Davis Gates has also spearheaded statewide legislative campaigns to pass the strongest charter school accountability measures in the country, push for the restoration of the bargaining rights of Chicago Public Schools employees and fully fund public education by ending tax loopholes for the one (1) percent.
In 2017, Mrs. Davis Gates was elected as Chair of United Working Families, an independent political organization by and for working class people and movements. She also serves as a board member for the Action Center on Race & the Economy (ACRE), a nexus for organizations working at the intersection of the struggle for racial justice and Wall Street accountability.
Mrs. Davis Gates is currently on leave from the classroom, where she taught high school social studies for over a decade at Englewood, Clemente and Mason Community Links High Schools. She attended Saint Mary's College, the University of Notre Dame and Concordia University. Mrs. Davis Gates lives on the South Side of Chicago with her husband and three children.
Other sessions: Winning on Public Safety: How Progressives Can Combat GOP Narratives on Crime, Public Safety Messaging: Lessons from the Chicago Mayor's Race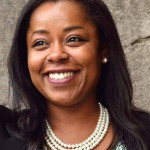 Sonya Marie Harper has been a journalist and community activist on the south side of Chicago since she was 16 years old. Sonya's passions include promoting community, economic development and civic engagement in an effort to create more peaceful and prosperous neighborhoods.
Harper has been a member of the Illinois House of Representatives since 2015. She is the Chairperson of the Agriculture & Conservation committee, the first black person to ever chair an Agriculture committee in the General Assembly. She also served as Joint Caucus Chair of the Illinois Legislative Black Caucus during the 102nd General Assembly where she led the caucus in appropriating a historic 2.5 billion dollars for black communities in the state budget. Harper serves as Chairman of the Agriculture & Conservation committee and Midwest Regional Vice Chair for the National Black Caucus of State Legislators (NBCSL), a board member for the National Organization of Black Elected Legislative Women and the Illinois State Director for Women In Government. Harper is also a member of the Executive Board of the National Conference of State Legislators.
The state of Illinois now recognizes urban agriculture and provides incentives for urban farmers because of a law sponsored by Harper. She assisted with authoring the social equity components of the Cannabis Regulation & Taxation Act by co-chairing the Black Caucus's Economic Access, Opportunity & Equity and Cannabis Workgroups and engaging communities that have been harmed the most by the war on drugs in the policy conversation. Through her work the Cannabis Equity Illinois Coalition was created.
Because of Harper's work in passing healthy food access related legislation the state has to track and report the locations of food deserts throughout the state as well as allow hot meals from restaurants and double value incentives at farmer's markets for SNAP recipients. Harper has been at the forefront of Agriculture Equity by authoring the Illinois Farmer Equity Act, Agriculture Disparity Study, Cannabis Equity Commission and most recently the Agriculture Equity Commission. Harper also passed a law that requires all schools in Illinois to test for lead in their drinking water and the Right to Garden Act which protects homeowners rights to grow food on their own property.
Rep. Harper worked with colleagues to create a statewide taskforce to develop opportunities for disconnected youth who are jobless and out of school and continues to speak up for the equitable distribution of violence reduction funds to grassroots organizations who have consistently been on the front line of serving youth and adults impacted most by the public health crisis of gun violence.
Sonya ran a public relations and community organizing consulting firm, Sharper PR Communications before joining the General Assembly. She founded and served as Executive Director for Grow Greater Englewood and was the Director of Outreach at Growing Home, Inc., the city's first and only USDA-certified organic high production urban farm. Prior to that she spent more than 10 years working in television news as a producer, writer and reporter for NBC (KOMU-TV) , FOX (WXIX-TV) and CBS (WBBM-TV) affiliates throughout the Midwest. Sonya began her journalism career as a legislative reporter covering state capitol news and issues in Jefferson City, Missouri (KMOX). Sonya returned home to Chicago, specifically West Englewood, to help nonprofits and community organizations with their communications and public relations needs. As a community organizer, she has also worked for local and national political and issue based campaigns.
A staunch advocate for food access and wellness education, Sonya co-founded the Wood Street Meet & Greet Community Garden in 2012 and spearheaded Grow Greater Englewood, a non-profit organization which advances development projects, economic and educational opportunities related to food, urban agriculture and healthy living.
Sonya is a former member of the Appointed Local School Council at Lindblom Math & Science Academy, organized the Englewood Votes! Coalition, served on the leadership team for the Resident Association of Greater Englewood (R.A.G.E.) and led efforts to organize the yearly neighborhood clean-up, Greater Englewood Unity Day when she was with Imagine Englewood If. Committed to youth leadership development and under the direction of Imagine Englewood If, she created Growing Citizen Leaders, a community organizing training program for teens in Greater Englewood.
Harper was a BILLD Fellow and Henry Toll Fellow both leadership programs of the Council of State Governments, an Edgar Fellow, an Emerging Leaders Fellow as part of the State Legislative Leadership Foundation and she also completed a fellowship with McCormick Foundation Executive Fellows program on Childhood Trauma co-sponsored by Lt. Governor Juliana Stratton.
Chairwoman Harper frequently presents her innovative legislation and policy ideas at national and international legislative conferences . She also serves as a member of the Joint Caucus of Black Elected Officials, State Innovation Exchange : Agriculture Cohort, National Caucus of Environmental Legislators and an Executive Board member of the Great Lakes Legislative Caucus, CSG.
Sonya resides in West Englewood, with her 13 year old daughter. She is a member of The Faith Community of Saint Sabina Church.