From Storytelling to Tech Policy Reform: Activism for Social Change
Session Type(s): Panel
Starts: Friday, Jul. 14 10:30 AM (Central)
Ends: Friday, Jul. 14 11:30 AM (Central)
Room: Salon C-3/4
Right now in the digital civil rights space, there is an unnecessary divide between activists and policy experts. Join us for a facilitated dialogue about how Black, Indigenous, Latinx, AAPI and other people of color in activist and policy spaces can come together to enact social change through tech policy reform. Hear from policy experts and advocates of digital civil rights, privacy and grassroots voices who have experienced how communities grapple with disinformation, hate, conspiracy and other dangerous online forces. This discussion will outline how the burgeoning digital civil rights sphere is organizing our field to urgently shape policy debate, with a focus on the storytelling to policy pipeline. Together, we'll explore the narrative power of storytelling as a tool for reform.
Moderator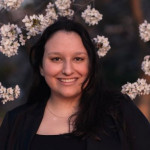 Rose Lang-Maso is a Campaign Manager at Free Press, a nonprofit which sits at the intersection of media and tech justice. Rose builds winning corporate accountability and policy campaigns that advance digital civil rights and mitigate the harms caused by disinformation, hate, and related online forces. As a Harry S. Truman Scholar, Rose seeks to further equity, civil rights, and democracy in all aspects of her work. Prior to joining Free Press, Rose built and managed Common Cause's Stop Disinformation Field Program, a grassroots effort leveraging thousands of volunteers that monitored democracy-related disinformation on social media throughout the 2020 election cycle.
Panelists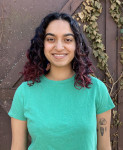 Jaya (she/her) is a Campaign Director for UltraViolet where she serves as the lead convener of the Women's Disinformation Defense Project, a table of over 30 racial and gender justice organizations committed to fighting disinformation and hate online that targets women in politics, particularly Black women and women of color, as well as LGBTQ+ people and other historically marginalized communities. She has also successfully led campaigns to combat abortion, COVID-19, and election disinformation on social media.
Jaya comes to this work from her past experiences as an organizer, rooted in intersectional, anti-racist, and community-based advocacy. Prior to UltraViolet, Jaya was the Community Organizer at community development corporation where she advocated for affordable and equitable housing, health, transit, and policy. As the daughter of immigrants, Jaya is passionate about building solidarity and kinship across communities to achieve a more equitable society.
Other sessions: Disinformation Station: How to Stop Racist and Misogynist Disinformation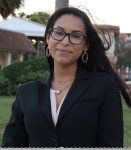 Willmary is a U.S. Policy Counsel for Access Now where she works on issues around content governance, privacy, artificial intelligence, and data protection. She previously served as the Director of Policy and Government Affairs for the National Hispanic Media Coalition and was hosted by Public Knowledge as a Google Policy Fellow in 2016. Willmary received her J.D. from the Howard University School of Law and is licensed to practice law in Washington D.C.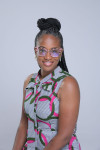 Ranada Robinson is the Research Director at the New Georgia Project and the New Georgia Project Action Fund. Ranada is responsible for designing and moving forward NGP and NGPAF's mission-driven research agenda and transforming research findings into strategic insights that inform the organizations' strategic efforts. She also is an economic development consultant, who spent 12 years working for a holistic economic development strategic planning firm that has worked in 35 states and over 150 communities. Ranada's overarching goal for everything she does is making historically disadvantaged communities better for future generations. Ranada holds a Master of Science in Urban Policy Studies with specializations in policy analysis and economic development and planning and a Master of Science in Risk Management and Insurance from Georgia State University. Ranada is also a graduate of Tougaloo College, where she earned bachelor's degrees in mathematics and computer science.
Deeply involved in community service, Ranada is active in several organizations, including New Leaders Council. A 2017 alumna of the NLC Atlanta Institute, Ranada has served as the chapter's Finance Chair and Alumni Co-Chair. She was also the 2018-2019 President of Outstanding Atlanta and currently serves on the organization's Board of Trustees. She also serves on the Tufts University CIRCLE Advisory Board and The People's Uprising Board of Directors. In 2017, she was featured in Who's Who in Black Atlanta. She served as president of Tau Epsilon Omega Chapter of Alpha Kappa Alpha Sorority, Inc., and its nonprofit arm, The Twenty Pearls Foundation, Inc. In 2016, she was inducted into the Tougaloo College Inaugural Class of 40 Under 40 for her career achievements as well as her alumni leadership, which includes president of the Atlanta Alumni Chapter, Southeastern Regional Representative for the national alumni association, and currently Membership Chairman of the national alumni association.
Other sessions: Combating Political Cynicism in Black Communities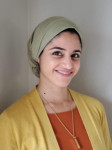 Sumayyah Waheed is Senior Policy Counsel for Muslim Advocates, a national civil rights organization that uses litigation, policy engagement and communications strategies to promote justice and equity while protecting the diverse spectrum of Muslim communities from anti-Muslim discrimination in all of its forms. Sumayyah handles federal policy advocacy on privacy and surveillance, racial and religious profiling, national security, and other critical civil and human rights issues.
Sumayyah brings over fifteen years of experience in progressive legal and policy advocacy at the local, state and national levels. Her work has covered issues from the criminal legal system to workers' rights, racial justice and tax policy. She has also worked for city and county governments from Oakland to Seattle.
Sumayyah earned her J.D. from U.C. Berkeley School of Law and her B.A. from The Ohio State University.