Disinformation Station: How to Stop Racist and Misogynist Disinformation
Session Type(s): Training
Training Tag(s): Communications
Starts: Thursday, Jul. 13 10:30 AM (Central)
Ends: Thursday, Jul. 13 11:30 AM (Central)
Room: Williford A
Join us to learn how to define and identify mis-, dis-, and malinformation. In this training, we'll cover how disinformation works to spread misogyny, racism, white supremacy and more. Participants will have an opportunity to engage in meaningful group conversations, breakout sessions and games to identify disinformation and practice tools to address and stop the spread. With a mind toward elections, this training will provide space for participants to think through potential disinformation scenarios and how to use their skills as organizers of any level to counter dangerous narratives at home, in community and online.
Trainers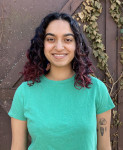 Jaya (she/her) is a Campaign Director for UltraViolet where she serves as the lead convener of the Women's Disinformation Defense Project, a table of over 30 racial and gender justice organizations committed to fighting disinformation and hate online that targets women in politics, particularly Black women and women of color, as well as LGBTQ+ people and other historically marginalized communities. She has also successfully led campaigns to combat abortion, COVID-19, and election disinformation on social media.
Jaya comes to this work from her past experiences as an organizer, rooted in intersectional, anti-racist, and community-based advocacy. Prior to UltraViolet, Jaya was the Community Organizer at community development corporation where she advocated for affordable and equitable housing, health, transit, and policy. As the daughter of immigrants, Jaya is passionate about building solidarity and kinship across communities to achieve a more equitable society.
Other sessions: From Storytelling to Tech Policy Reform: Activism for Social Change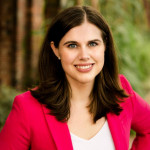 Jena Griswold is Colorado's 39th Secretary of State and the youngest Secretary of State in the country. She grew up working class in rural Colorado and knows how important it is for everyday Americans to have their voices heard in our democracy. In 2019, Griswold spearheaded and passed into law one of the largest democracy reform packages in the nation. This year, she is a leading voice in expanding mail ballots to every eligible American.
Before assuming office, Griswold had practiced international anti-corruption law, business law, election law, and ran a small business. She also served as the Director of the Colorado Governor's DC Office, where she helped bring back hundreds of millions of relief dollars to help the Colorado communities hit by the 2013 flood. In 2018, Jena was elected as the first democratic Secretary of State in Colorado since 1958, the first democratic woman Secretary of State in Colorado's history, and only the 10th woman in Colorado's history to hold current statewide constitutional office.