Engaging High Potential Audiences Online: A Latino Gamer Case Study
Session Type(s): Training
Training Tag(s): Intermediate Online Organizing
Starts: Thursday, Jul. 13 4:00 PM (Central)
Ends: Thursday, Jul. 13 5:00 PM (Central)
Room: Williford A
Whether deploying targeted ads, or running distributed organizing campaigns, we need a deep understanding of our audience in order to engage with them in authentic ways for mobilization. In this training, participants will learn about creating campaigns that use well-informed audience analysis to define and better target high potential audiences by learning about research into gamers. Through a case study about innovative research seeking to understand how gamers perceive and make judgements around belonging and community, participants will learn how the findings were deployed for a GOTV ad campaign ahead of the 2022 elections aimed at engaging young Latino men, a population at risk for right-wing radicalization.
Trainer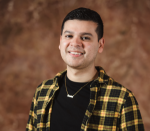 As the Deputy Communications Director for United We Dream, the largest immigrant youth-led network in the nation, José helps lead the organization's earned media, narrative, and counter disinformation strategies.
José Alonso has trained over 200 young leaders in message and communications strategy, he co-led the award winning communications strategy of the Home is Here Campaign to protect DACA at the Supreme Court, and led research in Latino media consumption including individual research on young gamers. In addition José is a published writer whose work has appeared in The New York Times, MTV News, The Huffington Post, DailyKos, Into, Them, among others. He is a seasoned spokesperson who has been featured in a variety of media publications in English and Spanish including live national shows like NPR's Morning Edition, CNN en español, MSNBC, SiriusXM's Signal Boost, Univision's Despierta America and Edicion Especial, among others.