2024 Starts Here: Supercharge Your Digital Fundraising with ActBlue and Sophie Ota
Session Type(s): Training
Training Tag(s): Basic Digital Organizing, Fundraising
Starts: Friday, Jul. 14 2:45 PM (Central)
Ends: Friday, Jul. 14 3:45 PM (Central)
Room: Williford C
When we hear '23, we think '24. Join ActBlue and Sophie Ota, former Digital Director for John Fetterman's historic U.S. Senate campaign, to examine recent digital trends, dive into crafting a strong fundraising ask, and explore fundraising tips and best practices. Participants will leave with an understanding of how to supercharge their digital fundraising programs for the 2024 cycle and beyond.
This session is sponsored by ActBlue.
Moderators
Sophie Ota currently serves as Director of Digital Strategy for New York City Comptroller Brad Lander and also oversees his online fundraising program. She previously helped flip Pennsylvania as Senator John Fetterman's Digital Director, and raised millions of dollars and impressions running grassroots fundraising and social media programs for Senator Elizabeth Warren's Senate and presidential primary campaigns.
Other sessions: Breaking through the Noise: How to Write the Best Fundraising Emails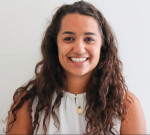 In 2015 Ruby began her career dedicated to shifting the power structures of our country. After fundraising with nonprofits for 3 years, Ruby dove head first into the world of political campaigning as the Deputy Training Director for the 2016 Hillary For America campaign in the battleground state of Ohio. In 2017, Ruby moved to EMILY's List, where she supported the planning and execution of a year-long Run to Win training program empowering hundreds of pro-choice Democratic women to take their first steps in running for office. In 2019, Ruby moved back to her hometown of Boston to build an ActBlue training team! Here, in collaboration with the incredible ActBlue staff, she works to build and deliver content that provides candidates, campaigns, nonprofits and movement leaders the support and resources they need to create and run a digital fundraising program. Ruby currently lives in Maine with her husband Zach and their two cats Mr. Hops and Mr. Squirrel.