Relate Like a Human: Power Up Your Relational Organizing with GIFs and Memes
Session Type(s): Training
Training Tag(s): Intermediate Online Organizing
Starts: Thursday, Aug. 18 2:30 PM (Eastern)
Ends: Thursday, Aug. 18 3:30 PM (Eastern)
Digital organizing techniques grounded in relational organizing have been key to every recent progressive success. Join us as we show you how GIFs and memes–the shareable, social language of the internet–can carry your message further and better than words alone. Content-based organizing can power up your outreach and engagement work and help you reach more people with content that speaks to their emotions, not just their brains. Using GIFs and memes informed by powerhouses like MoveOn, LCV, Planned Parenthood, and countless grassroots organizers, we'll help you make your digital organizing more effective and turn your contacts into advocates who spread your message even further.
Moderator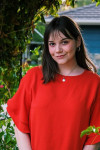 Kiley Staufenbeil is the National Organizing Manager for the Into Action Lab, a content network building cultural momentum around civic engagement and the issues affecting our country and world. Kiley works to build power for progressive partners and causes through content-based organizing, and bring politics to real people in culturally competent ways.
After graduating from San José State University in 2020, she went to work in the Bay Area, helping local progressive candidates get elected. Kiley is excited to share more about the humanity in digital organizing and to meet you at Netroots.