Session Type(s): Special Event
Starts: Friday, Aug. 19 9:15 AM (Eastern)
Ends: Friday, Aug. 19 10:15 AM (Eastern)
Room: 322
Certified meditation teacher and movement leader Reggie Hubbard will use sound bowls and a mellow, grounding gong to hold space for those who need to rest, refresh and relax.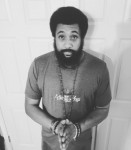 Reggie has held many senior strategic and logistical roles across a variety of fields, ranging from global marketing, digital and community organizing, government relations, international education to Presidential campaigning. He currently serves as a senior political strategist for MoveOn, managing their relationships, impact and communications with Capitol Hill. In addition to his political work, Reggie is also a 500 hour certified yoga teacher and authored a thesis entitled, "Yoga and Spiritual Activism: Serving Humanity from a Sense of Devotion and Love." He received a B.A. in philosophy from Yale University and an MBA in international strategy from the Vlerick Business School in Belgium.
Reggie has taught Members of Congress, Congressional Staff, leading progressive organizations and individuals, sharing techniques for growing peace and ease as a foundation, not an afterthought. His teaching practice is designed for all levels and lifestyles, the only thing required is an open mind. The focus of his teaching practice is to bring more peace and balance to activists AND to guide the wellness community toward being more engaged, concerned citizens. Achieving this balance is how we catalyze transformative change.
Other sessions: Wellness Hacks for Political Flacks, Morning Yoga with Reggie Hubbard, Morning Yoga with Reggie Hubbard, Mindful Meditation Moment, Let's Go Crazy: A Prince-themed Yoga Flow/Dance Party