Improving Your Influence: Strategizing Relationships with Elected Officials
Session Type(s): Training
Training Tag(s): Grassroots Organizing/Campaigns
Starts: Thursday, Aug. 18 3:45 PM (Eastern)
Ends: Thursday, Aug. 18 4:45 PM (Eastern)
Room: 325
Every campaign needs a thorough strategy—but how often do we intentionally strategize our relationships with elected officials? Correspondence with decision-makers must be calculated in order to achieve desired policy goals. Learn how to incorporate a communication strategy with decision-makers into your digital advocacy efforts. Know when to show appreciation and when to turn up the heat and use scrappy stunts to gain attention. Join us for a fun presentation on the inside/outside game!
Moderators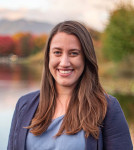 Abbey is a natural organizer and strategic thinker who knows how to ask the right questions to help a campaign reach its highest potential.
Abbey assists leading progressive campaigners from all over the world activate grassroot support, reach decision-makers, and ultimately win important campaigns with New/Mode's digital organizing platform. Prior to joining New/Mode, Abbey worked as a Provincial Organizer for Dogwood BC where she played an integral role in engaging and mobilizing volunteers. Previously, Abbey designed and implemented strategy for two successful election campaigns and fundraised for the Wilderness Committee, one of Canada's largest environmental charities.
Throughout, Abbey has grappled with the implications being a white settler engaging in activism on unceded Indigenous land. She strongly believes that it is imperative to respect and uphold Indigenous rights in the fight for a more socially and environmentally just future.