Engaging Voters, Fighting Disinformation and Winning the Latinx Vote
Session Type(s): Panel
Starts: Saturday, Aug. 20 10:00 AM (Eastern)
Ends: Saturday, Aug. 20 11:00 AM (Eastern)
From Arizona to Nevada, Wisconsin to Georgia, Latinx organizers were critical to driving the needed votes to deliver a decisive win for progressives in 2020. Pundits and many in the media wanted to paint a different story, however, one without a genuine understanding of the intricacies of the Latinx electorate. Who are Latinx voters and how can we authentically engage with them? Join a panel of experts working to engage with voters on the ground, moving critical research about Latinx young people, driving cutting edge engagement on Whatsapp, and fighting the rampant radicalized disinformation targeting Latinx folks in an attempt to dissuade them from voting for progress.
Moderator
Panelists
Roberta Braga is Director of Counter-Disinformation Strategies at Equis, where she oversees the organization's work on monitoring and countering disinformation and misinformation in Latino spaces online. She previously served as Global Content and Campaigns Manager at the global law firm Baker McKenzie and as Deputy Director for Programs and Outreach at the Atlantic Council's Adrienne Arsht Latin America Center. Roberta earned her MA in Global Communication with a focus on Public Diplomacy from The George Washington University and her BA in Journalism and International Security from the University of Wisconsin-Madison. She is a Penn Kemble Fellow at the National Endowment for Democracy and a former Cyber Fellow with Young Professionals in Foreign Policy. Originally from Brazil, Roberta is a native Portuguese- and English-speaker, and fluent in Spanish.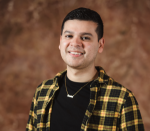 As the Deputy Communications Director for United We Dream, the largest immigrant youth-led network in the nation, José helps lead the organization's earned media, narrative, and counter disinformation strategies.
José Alonso has trained over 200 young leaders in message and communications strategy, he co-led the award winning communications strategy of the Home is Here Campaign to protect DACA at the Supreme Court, and led research in Latino media consumption including individual research on young gamers. In addition José is a published writer whose work has appeared in The New York Times, MTV News, The Huffington Post, DailyKos, Into, Them, among others. He is a seasoned spokesperson who has been featured in a variety of media publications in English and Spanish including live national shows like NPR's Morning Edition, CNN en español, MSNBC, SiriusXM's Signal Boost, Univision's Despierta America and Edicion Especial, among others.